Anime voice actress-themed live-action series is set to premiere in April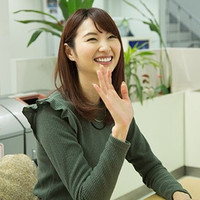 The official website for the upcoming live-action TV drama Koe Girl! (Voice Girl!) announced that 28-year-old voice actress Haruka Tomatsu, who played Iona Hikawa/Cure Fortune in the 11th PreCure TV series HappinessCharge PreCure! (2014-2015), will appear as herself. The drama is produced as part of the 15th anniversary project for Toei Animation's PreCure franchise and is set to premiere in April 2018.
Tomatsu, also known as a member of voice actress unit sphere, will play popular anime voice actress "Haruka Tomatsu," and supports the protagonist Makoto Kikuchi, portrayed by 19-year-old Haruka Fukuhara, who voiced Himari Arisugawa/Cure Custard in the 14th TV series Kirakira PreCure a la Mode (2017-2018), as her adviser.
Tomatsu says, "Because I have thought the job as voice actors is backstage work, I think being featured
in a drama is a social phenomenon in a way! As the number of people who are aiming to be voice actors
is growing, I hope they will learn not only 'fun things,' but also 'strictness' and 'efforts' by watching this
drama, then feel like 'Voice acting is a wonderful job!' For the fans of the PreCure series, many series will
appear in this drama, so I believe they will think 'It brings back my good memories!'"
Haruka Tomatsu
Haruka Fukuhara and Tomatsu
#福原遥 さん主演の連続ドラマ「#声ガール! 」に人気声優 #戸松遥
が本人役でレギュラー出演決定!#キュアカスタード と #キュアフォーチュン
のシリーズを超えた夢の共演が実現します!https://t.co/ejlK8NX3ij#precure #プリキュア #プリキュアアラモード #ハピネスチャージプリキュア pic.twitter.com/dejEuRy8G6

— プリキュア15周年公式 (@precure_15th) 2018年2月25日
In addition, 55-year-old voice actress Noriko Hidaka, best known as Akane Tendo in Ranma 1/2, Minami
Asakura in Touch, and Satsuki Kusakabe in My Neighbor Totoro is confirmed to play the protagonist
Makoto's mother Mari Kikuchi. And 41-year-old Daisuke Namikawa, who was cast as Kumata/Dark Matter
in the 2016 film Maho Girls PreCure! the Movie: The Miraculous Transformation! Cure Mofurun! and is
currently playing Uchifuji-sensei in the 15th TV series Hugtto! PreCure, will also appear as himself.
なんと #浪川大輔 さんご本人が
リツイートしてくださいました

『声ガール!』に本人役でご出演
内容は秘密ですが重要な役どころです
すごく面白い方で、毎回いろんなアドリブを入れて下さるので現場は爆笑の渦でした
本当にありがとうございました#声ガール @namidai0402 pic.twitter.com/stFkkS1tUH

— ドラマ『声ガール!』【公式】 (@abc_koegirl) 2018年2月19日
---
The ensemble coming-of-age drama centers on five girls who are voice actress trainees living together at
their agency's dormitory. They support and compete each other to be professional anime voice actresses.
With full support by the franchise, the drama will feature various scenes, characters, and signature phrases
from the PreCure anime stories.
Main Cast:
Makoto Kukuchi (recruited as a voice actress trainee)
- Haruka Fukuhara (19/Himari Arisugawa/Cure Custard in Kirakira PreCure a la Mode)
Mami Kuriyama (Makoto's rival)
- Yurika Nakanmura (20/Sayaka Igarashi in Kakegurui)
Ren Inaba (deep PreCure otaku)
- Mariya Nagao (23/ex-AKB48 member)
Konatsu Moromito (inspiring girl from Kansai)
- Jun Amaki (22/ex-Kamen Jyoshi member)
Ryoko Ochiai (ex-child actress)
- Aoi Yoshikura (23/fashion magazine "mina" model)
4月から放送のドラマ『声ガール!』は #プリキュア シリーズとコラボ
「ふたりはプリキュア」から早15年
プリキュア世代なキャストの5人と世界観を作り上げます
懐かしのセリフや映像、グッズが随所に登場するので、コラボっぷりも是非お楽しみに♫#声ガール #precure pic.twitter.com/1Moix2x6mL

— ドラマ『声ガール!』【公式】 (@abc_koegirl) 2018年2月18日
Source: "Koe Girl!" official website, PreCure 15th anniversary project site
© ABC