The novel's latest 7th volume is set to be released on March 15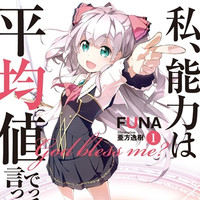 The official website for Earth Star Entertainment's light novel label Earth Star Novel announced today on February 27 that an anime adaptation project based on FUNA's fantasy series Watashi, Nouryoku wa Heikinchi dette Ittayone! (English title: Didn't I Say to Make My Abilities Average in the Next Life?!) is now in development. This is the first title from the label launched in December 2014 to get its anime adaptation. More details including the anime's staff and voice cast will be revealed at a later date.
The series was first posted on the user-generated novel publishing website Shosetsuka ni Narou (Let's Become a Novelist) in January 2016, then its first volume was published from the label in May of the year. The novel's latest 7th volume is set to be published on March 15, 2018. Its manga adaptation illustrated by Neko Mint currently has two volumes.
The first novel's English edition was already published digitally by Seven Seas Entertainment under
the title Didn't I Say to Make My Abilities Average in the Next Life?! in February 2018, and the volume's
print edition is set for June 2018, then the second volume's print edition will follow in August, third in
September and the fourth in November. The first volume of the manga's English edition will be available
in July 2018 and the second in December.
Seven Seas describes the story as below:
When she turns ten years old, Adele von Ascham is hit with a horrible headache–and memories of her
previous life as an eighteen-year-old Japanese girl named Kurihara Misato. That life changed abruptly,
however, when Misato died trying to aid a little girl and met god. During that meeting, she made an
odd request and asked for average abilities in her next life. But few things–especially wishes–ever go
quite as planned.
---
Novel illustrator Itsuki Akata also announced the news on Twitter
挿絵描かせて頂いてる『私、能力は平均値でって言ったよね!』アニメ化企画が進行中なんですって! 詳細等は追々と言った感じなのですが、どうぞ宜しくです! (既存絵で失礼)https://t.co/SFOS7urK8b pic.twitter.com/o8IsJDH5tL

— 亜方逸樹 (@akataizki) 2018年2月26日
Novel 1st and 7th volume covers
Manga 1st and 2nd volume covers
Source: Earth Star Novel
© FUNA and Itsuki Akata
© FUNA and Neko Mint
© EARTH STAR Entertainment.