Haoliners' Li Haoling serves as general director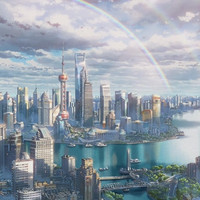 The official website for Tokyo-based anime production studio CoMix Wave Films (Your Name.) announced today on February 27 that its new anthology anime film Shikioriori is set for a release in Japan, including Theater Shinjuku and Cinelibre Ikebukuro in Tokyo, in the summer of 2018. The film's teaser site and official Twitter have also opened.
It is a collaboration project with Chinese animation company based in Shanghai, Haoliners (To Be Hero, The Silver Guardian), and its representative Li Haoling serves as general director. He saw Makoto Shinkai's 5 Centimeters per Second about 10 years ago and has admired his works since then. He has been sending his passionate offers to CoMix Wave Films, and it has been realized finally.
The anthology film consists of three short stories: "Hidamari no Chousyoku" (The Breakfast in Sunny
Spot) by Chinese live-action film director Yi Zhenxing as his first anime film, "Chiisana Fashion Show"
(A Small Fashion Show) by Yoshitaka Takeuchi (The Garden of Words, Your Name. 3DCG chief), and
"Shanghai Love" by Li Haoling. The stories of the three shorts are all set in Chinese cities.
Background image arts posted on the film's official Twitter
【本日解禁】『#君の名は。』『#秒速5センチメートル』の #コミックス・ウェーブ・フィルム が贈る最新作。
《3つの短編からなる珠玉の青春アンソロジー》『#詩季織々』2018年夏公開決定!

本アカウントで最新情報を順次お届けしていきます!#しきおり #はじめてのツイートhttps://t.co/ekkBCCvOJ6 pic.twitter.com/lXKHd1eMrh

— 『詩季織々』公式 (@shikioriori2018) 2018年2月27日
Source: CoMix Wave Films official website
© "Shikioriori" Film Partners