See what's new from the Discotek Media lineup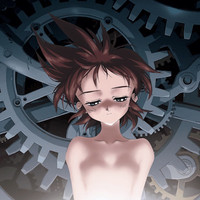 Crunchyroll announced a handful of additions from the Discotek Media catalog today. The latest series available to stream are Earl and Fairy, Key the Metal Idol, Gokudo, A Wind Named Amnesia, Night on the Galactic Railroad, and Street Fighter II: The Animated Series. Check out the details for each below!
Earl and Fairy - Available Now
Territories: United States, Canada
Synopsis:
In 19th century England, 17-year-old Lydia Carlton ekes out a living as a fairy doctor. She is one of the rare humans who can see and communicate with fairies, although almost no one believes her in this day and age. But Lydia s quiet country life is turned upside down when Edgar J. C. Ashenbert, who claims to be royalty, hires her for her fairy expertise. She joins his quest for an invaluable magic sword, traveling from the United Kingdom to the Fairy World in this adventurous romantic fantasy.
Key the Metal Idol - Available Now
Territories: United States, Canada, United Kingdom, Ireland, Australia, New Zealand
Synopsis:
Her classmates at school called her Key, as in the "key" to a strange mystery. Key's "grandfather" was a kindly old scientist wanting to use his skill in robotics to create peace and love in the world. But when that kindly old scientist passed away, poor Key was left behind, lacking even the ability to smile. There still is hope, however—a message left behind for Key suggests a fantastic possibility. Could it really be possible for Key to become a real, live human, if she can only win the love of 30,000 people?
Gokudo - Available Now
Territories: United States, Canada
Synopsis:
Where is it written that heroes have to be heroic? Gokudo is the perfect adventurer. Reckless, greedy and ambitious, his star qualities make him one imperfect crown prince and an even worse hero. With his flaming sword, a tomboy looking for excitement and the prince of his rival kingdom, he sets off on a quest to uncover all the great treasures of the world. He'll succeed, or make a total fool of himself trying!
A Wind Named Amnesia - Available at 6:00pm Pacific Time
Territories: United States, Canada
Synopsis:
Are we shackled by civilization? What is a human being, when freed from the pressures of society? A Wind Named Amnesia explores Earth after a mysterious wind blows away all of humanity's memories and reduces people to a more primitive state. Through certain circumstances, Wataru has relearned how to speak and think, and now is determined to find out just what remains in the wake of the wind. Joined by a strange woman named Sophia, the two of them set out on a journey across what was once known as the United States of America. Along the way, they will witness the true nature of man, and just what it means to be human.
Night on the Galactic Railroad - Available at 7:00pm Pacific Time
Territories: United States, Canada
Synopsis:
What is true happiness? For Giovanni, the answer is as far away as the stars. Mired in hardship, the young kitten faces problems that should be unknown to someone his age. At school, his classmates mock and ridicule him, and after the bell rings, Giovanni toils at a job to earn enough money for bread. Then at home, instead of being taken care of by his mother, he must take care of her. The sole bright spot is that of the Festival of Stars, where he hopes to run into Campanella, his only friend. When they finally meet up, however, it isn't while looking up at the stars, but rather traveling amongst them... as the Galactic Railroad whisks the two away for parts unknown!
Street Fighter II: The Animated Series - Available Now
Territories: United States, Canada
Synopsis:
Discipline! Justice! Commitment! That's the code that the secret international peacekeeping force "Street Fighter" adheres to! Made up of the top martial artists from around the world, Street Fighter opposes criminal activities anywhere, at any time. William F. Guile, the leader of Street Fighter, conducts himself with honor even as he blows away bad guys at the speed of sound with his "Sonic Boom"! Meanwhile, the bestial Blanka shocks his opponents all too literally, and Chun-Li's furiously flying fleet feet take down anything that gets between her and justice! They'll need all the help they can get against the villainous Shadaloo, whose leader M.Bison is one of the strongest, most vile criminals around! Fortunately for Street Fighter, they've got Ryu and Ken to back them up.
-------
Joseph Luster is the Games and Web editor at Otaku USA Magazine. You can read his webcomic, BIG DUMB FIGHTING IDIOTS at subhumanzoids. Follow him on Twitter @Moldilox.