43-year-old Ryo Taniguchi is revealed as the designer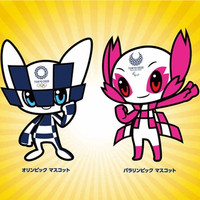 Today on February 28, the Tokyo Organising Committee of the Olympic and Paralympic Games announced that the design A characters are chosen as the official mascots for the upcoming 2020 Summer Olympic and Paralympic Games. From the six final candidates, the two were chosen by the votes of 205,755 classrooms from 16,769 elementary schools across Japan, held between December 2017 and February 2018. The winners got 109,041 votes, while the design B and C received 61,423 and 35,291, respectively. The names of the two are scheduled to be decided by July or August of this year.
【 #2020マスコット 決定!】
東京2020大会マスコットに選ばれたのは109,041票を集めた、#マスコット 候補「ア」。小学生のみなさん、たくさんの投票ありがとうございました。これから一緒に #Tokyo2020 を盛り上げていきましょう pic.twitter.com/pw64gdie6S

— Tokyo 2020 (@Tokyo2020jp) 2018年2月28日
The final candidates were chosen from 162,042 submissions by the 14 members of the Mascot Selection
Examination Council, including 31-year-old otaku idol Shoko Nakagawa, aka Shokotan. Soon after the
announcement, Shokotan says on her official Twitter, "I want to see them animated by Kamikaze Douga-san!"
神風動画さんでアニメになるのがみたい!

— 中川翔子 (@shoko55mmts) 2018年2月28日
The designer of the A characters is revealed as 43-year-old Ryo Taniguchi, who graduated from
Cabrillo College (Art Major) in California in 1997. He previously designed the main characters
for Japan expo Thailand 2016, Gen-kun and Mu-chan.
東京五輪マスコット決定!作者は福岡のデザイナー #東京オリンピック #ア案 https://t.co/a6ELvObsI4

— シネマトゥデイ (@cinematoday) 2018年2月28日
東京五輪マスコットの谷口亮さん「頭の中が真っ白」 https://t.co/01RXCVD5jC #東京五輪 #マスコット

— 日刊スポーツ (@nikkansports) 2018年2月28日
---
"Mascot Design Candidates A"
"Mascot Design Candidates B"
"Mascot Design Candidates C"
Source: The Tokyo Organising Committee of the Olympic and Paralympic Games official website