Gen Hoshino, Kana Hanazawa, Hiroshi Kamiya voiced the leads in the romantic comedy film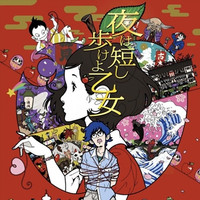 The 41st Japan Academy Prize Awards ceremony was held at the Grand Prince Hotel Shitakanawa in Tokyo on March 2 and Masaaki Yuasa (Mind Game, The Tatami Galaxy)'s anime film adaptation of Tomihiko Morimi's award-winning romantic comedy novel Yoru wa Mijikashi Arukeyo Otome/The Night Is Short, Walk on Girl (Night is short, Walk, Girl) was chosen as the "Animation of the Year" from the five candidates.
㊗️第41回日本アカデミー賞最優秀アニメーション作品賞を頂きました湯浅政明監督、森見登美彦先生、星野源さんをはじめとする素晴らしいキャスト&スタッフの皆様、何よりも作品を応援頂いた皆々様に心より御礼申し上げます なむなむ!#黒髪の乙女 #夜は短し歩けよ乙女 pic.twitter.com/BV4Z3xB50X

— 『夜は短し歩けよ乙女』BD発売中! (@otome_movie) 2018年3月2日
The Science Saru-produced film was released in Japan on April 7, 2017. It ranked 7th in the weekly box
office ranking in its debut weekend, then quickly disappeared from the top 10 in the following weekend.
Though it failed to make much impact in the box office, its eccentric visual and story telling was praised
by the critics. Five months after the Japanese release, it won the "Best Animated Feature" prize at the
41st Ottawa International Animation Festival.
Other four "Excellent Animation of the Year" films were:
"Fireworks, Should We See It from the Side or the Bottom?"
(Toho/Akiyuki Shinbo-general director, Nobuyuki Takeuchi)
"Napping Princess/Ancien and the Magic Tablet"
(Warner Brothers Japan/Kenji Kamiyama)
(Toho/Hiromasa Yonebayashi)
"Detective Conan: Crimson Love Letter"
(Toho/Kobun Shizuno)
---
90-second trailer
Q&A session with the director Yuasa at the Tokyo International Film Festival in October 2017
Poster visual
© Tomihiko Morimi, KADOKAWA/Nakame no Kai
Main Voice Cast:
Senpai: Gen Hoshino (singer-songwriter)
Kurokami no Otome: Kana Hanazawa (Hinata Kawamoto in March Comes in like a Lion)
School Festival Executive Director: Hiroshi Kamiya (Levi in Attack on Titan)
Pant Soubancho: Ryuji Akiyama (a member of comedian unit Robert)
Higuchi Shisho: Kazuya Nakai (Roronoa Zoro in One Piece)
Hanuki Ryoko: Yuko Kaida (the same voice cast in The Tatami Galaxy)
God in The Used Book Market: Hiroyuki Yoshino (Iwaizumi Hajime in Haikyu!!)
Noriko Suda: Seiko Niizuma (Solcieel in PreCure All Stars: Singing with Everyone♪ Miraculous Magic!)
Nise Jyogasaki: Junichi Suwabe (Archer in Fate/stay night)
Princess Daruma: Aoi Yuuki (Madoka Kaname in Puella Magi Madoka Magica)
Johnny: Nobuyuki Hiyama (Gai Shishioh in King of Braves GaoGaiGar)
Todo-san: Kazuhiro Yamaji (Japanese dub voice of Jason Statham)
Rihaku-san: Mugihito (Japanese dub voice of Patrick Stuart)
---
Source: The 41st Japan Academy Prize Awards official website