L'attaques des manchots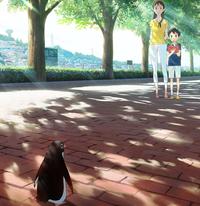 C'est sur sa chaîne YouTube que Toho Animation nous fait découvrir le premier trailer du film Penguin Highway ! Le long-métrage est une adaptation d'un roman de Tomihiko Morimi (dont The Tatami Galaxy a été adapté en animé et The Night is Short, Walk on Girl en film par Masaaki Yuasa) sorti au Japon en 2010.
Voici les premières images du projet :
Le film sera produit par le studio Colorido et réalisé par Hiroyasu Ishida (Hinata no Aoshigure, Paulette no Isu, Fastening Days). Au design des personnages, il retrouvera son compère sur les œuvres citées en la présence de Yôjirô Arai. C'est Makoto Ueda qui s'occupera du scénario. L'artiste est habitué aux récits de Tomihiko Morimi puisqu'il était déjà aux commandes du script de The Tatami Galaxy. Pour finir, c'est Umitaro Abe qui composera la bande-son.
Rendez-vous en août prochain dans les cinémas japonais !
Sources : Toho Animation, Comic Natalie