The four-disc set including the whole 12 episodes will be available tomorrow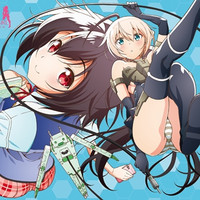 To promote the release in Japan tomorrow, Pony Canyon's official anime YouTube channel has posted a special video to explain how to open the Blu-ray box of the 12-episode TV anime Frame Arms Girls and to show its bonus contents: a 64-page booklet and a set of 12 illustrated cards.
The TV anime inspired by Kotobukiya's popular model kit series of the same name featuring robot girls equipped with various armor and weapon parts was animated by ZEXCS and studioA-CAT, and aired in Japan from April to June of 2017. The box includes the anime's whole 12 episodes, along with the creditless OP (early version) and ED movies. The box art is newly drawn by the anime character designer Kousuke Kawamura (OniAi, Anti-Magic Academy: The 35th Test Platoon). The price in Japan is 23,999 yen (about 226 US dollars).
Box art
Contents
【3/7BD-BOX発売】
いよいよ明後日発売『フレームアームズ・ガール』初の全話収録Blu-ray BOXは、描き下ろしケース/特製ブックレット/エンドカードブロマイドなど豪華封入特典満載‼️きゃにめ&コトブキヤショップ限定特典は"鍋敷き"です詳細はこちら⇒https://t.co/WXDvlvm66G #FAガール pic.twitter.com/Qb99MMYSvB

— 「フレームアームズ・ガール」アニメ公式 (@fagirl_official) 2018年3月5日
---
TV anime 2nd PV with English subtitles
Key visual
---
Main Staff:
Original Story: Kotobukiya
FA Girls Base Designs: Fumikane Shimada (Strike Witches, Girls und Panzer), Takayuki Yanase
Director: Keiichro Kawaguchi (Please Tell Me! Galko-chan)
Series Composition: Deko Ako (Amanchu!, Urara Meirocho)
Original Character Design: Fumikane Shimada
Mechanic Design: Takayuki Yanase
Anime Character Design: Kosuke Kawamura (Anti-Magic Academy: The 35th Test Platoon)
CG Director: Yuichi Goto (studioA-CAT)
Music: Keigo Hotari (MONACA), Sho Ishihama (MONACA)
Sound Director: Riki Iida
Production: Heart-Bit
Anime Production: ZEXCS/studioA-CAT
Project Production: Kotobukiya/FAGirl Project
Main Voice Cast:
Ao Gennai: Yoko Hikasa
Bikuko Kotobuki: Kanomi Izawa
Gourai: Narumi Kaho
Stilett: Yu Ayase
Baselard: Rika Nagae
Materia Black/White: Erii Yamazaki
Architect: Hibiku Yamamura
Hresvelger: Rika Abe
Source: TV anime "Frame Arms Girl" official website
©KOTOBUKIYA / FAGirl Project