Ryoichi Kuraya (Tsugumomo)-directed series will premiere in Japan on April 12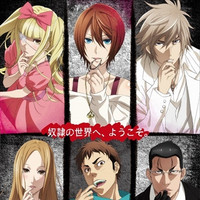 The official website for Doreiku The Animation, the upcoming TV anime adaptation of Shin'ichi Okada (story) and Hiroto Ohishi (arts)'s Dorei-ku: Boku to 23-nin no Dorei (Slave District: 23 Slaves and Me) manga announced today that its ED song "BJ" is performed by 29-year-old singer/voice actress Pile, best known as Maki Nishikino in the Love Live! franchise. You can check the song in the main PV also posted today. The clip announces the anime will premiere on Tokyo MX and BS11 on April 12.
"BJ" will be released as Pile's 8th solo single on May 2, her 30th birthday.
#Pile の新曲「BJ」が待望のアニメ化で話題のテレビアニメ「#奴隷区 The Animation」エンディングテーマに決定Pile本人の誕生日5月2日(水)に8thシングル「BJ」として発売となります同アニメの本PVにて「BJ」が少し聴けちゃいます今すぐチェックhttps://t.co/NKmCRhCnP3@pile_eric pic.twitter.com/AquHyxWR7d

— ビクターエンタテインメント (@VictorMusic) 2018年3月12日
The OP song "Karakara na Kokoro" (Dried-up Heart) is sung by 24-year-old singer-songwriter/actor
Shogo Sakamoto (Ryoma Echizen in The Prince of Tennis Musical).
【告知②】
オープニング、エンディングを歌うアーティストが決定!
オープニングテーマを歌うのは、シンガー・ソングライター/俳優として活躍中の阪本奨悟さん。エンディングテーマを歌うのは歌手、声優として活躍中のPile さんに決定いたしました!#奴隷区 #阪本奨悟 #Pile pic.twitter.com/joIAp5mcr5

— 『奴隷区』アニメ公式 (@doreiku_anime) 2018年3月12日
---
The TV anime is written/directed by Ryoichi Kuraya (Tsugumomo), alongside character designer Junji Goto
(High School DxD). ZERO-G (Tsugumomo, DIVE!!) and TNK (High School DxD, Bladedance of Elementalers)
jointly work on anime production. After the TV broadcast, it will be also streamed exclusively on Netflix.
The story revolves around a device called an SCM (slave control method), which can control other people
as your slave, and a survival game by its 24 users for their own purposes. Eia Arakawa is a part-time jobber
who has been bored with her mundane life. One day she meets Yuga Ohta and learns about SCM from him...
Key visual
「奴隷区 The Animation」のアニメキービジュアルが発表となりました!併せて、公式ホームページをリニューアルいたしましたので、ぜひご覧ください!! https://t.co/7snYLJEZfd #奴隷区 pic.twitter.com/YbeQorX0S1

— 『奴隷区』アニメ公式 (@doreiku_anime) 2018年1月25日
Source: "Doreiku The Animation" official website, Twitter
© "Doreiku The Animation" Production Committee