The voice of Yuuma Kousaka (Gundam Build Fighters Try), Hayate Immelmann (Macross Delta)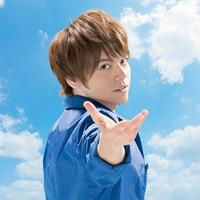 25-year-old popular anime voice actor Yuma Uchida announced that he will make his solo singer debut from King Amusement Creative with his first single "NEW WORLD" on May 30. His newly-launched official YouTube channel has posted a 100-second preview video for the song yesterday, and it has been viewed over 17,000 times in 18 hours.
Yuma is a three-year-younger brother to Maaya Uchida (Rikka Takanashi in Love, Chunibyo & Other Delusions). During learning at Japan Narration Acting Laboratory, he played his first role in the OVA Holy Knight (2012). Since then, he has voiced Yuuma Kousaka in Gundam Build Fighters Try (2014-2016), Ein Dalton in Mobile Suit Gundam: Iron-Blooded Orphans, and Hayate Immelmann in Macross Delta (2016-), while singing many character songs for popular male idol franchises, such as The [email protected] SideM, Star-Mu, and Uta no Prince-sama.
"NEW WORLD" preview
Artist photo
Source: Yuma Uchida official website
© King Record.Co.,Ltd. All Rights Reserved.