The 24th feature film is expected by the most successful one in the franchise's 15-year history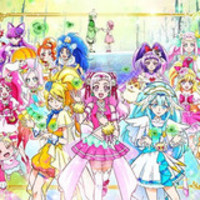 Toei Animation's latest feature film PreCure Super Stars! has proved the PreCure franchise's uprising popularity in Japan. Following the advance ticket sales records, the 24th PreCure film earned an impressive 226,236,600 yen from the 202,750 ticket sales in its opening weekend of March 17-18, which was 143.5% of that of last year's PreCure Dream Stars! and the highest in the PreCure franchise's 15-year history.
The previous two-day opening weekend record of 220 million yen was marked by the 8th feature film (2nd All Stars film) PreCure All Stars DX2: Light of Hope☆Protect the Rainbow Jewel! released in March 2010. Since All Stars DX2 also earned 1.15 billion yen from its total domestic run and has been the most successful film in the franchise, PreCure Super Stars! is expected to surpass the box office record for the first time in eight years.
The latest PreCure crossover film features the 12 PreCure girls from the recent three TV series: Maho
Girls PreCure! (2016–2017), Kirakira PreCure a la Mode (2017–2018), and the ongoing Hugtto! PreCure
(2018-), and is directed by Yoko Ikeda (Suite PreCure The Movie).
『映画プリキュアスーパースターズ!』本日公開いたしました!
そして初日舞台挨拶お越しいただいた方々、ありがとうございます!
最後は豊洲での舞台挨拶になります☆
最後まで盛り上がっていきましょう!
新宿バルト9での舞台挨拶後にパチリ☆
まだ観てない方は映画館へ!#映画プリキュア pic.twitter.com/vGIfh7adTk

— 映画プリキュアスーパースターズ! (@precure_movie) 2018年3月17日
(back)
Cure Miracle (Maho), Cure Ange & Cure Yell & Cure Etoile (Hugtto), Cure Whip (Kirakira)
(front)
Rina Hon'izumi (Saaya Yakushiji), Rie Hikisaka (hana Nono), Jensho Ono (Clover), Yui Ogura (Homare Kagayaki)
---
Weekend box office in Japan (March 17-18, 2018)
- ticket sales basis
1 (1). "Doraemon the Movie: Nobita's Treasure Island"
2 (new). "Coco"
3 (new). "Chihayafuru Musubi"
4 (new). "PreCure Super Stars!"
5 (3). "The Greatest Showman"
6 (2). "Kito no Sakuramori"
7 (4). "Black Panther"
8 (5). "Kyonen no Fuyu, Kimi to Wakare"
9 (6). "Legend of the Demon Cat"
10 (7). "The Shape of Water"
---
Full trailer
"PreCure Super Stars!" poster visual
☆3月17日(土)公開☆
『映画プリキュアスーパースターズ!』のポスターが解禁!
新シリーズの「HUGっと!プリキュア」そして「キラキラ☆プリキュアアラモード」「魔法つかいプリキュア!」の3世代が揃った豪華ポスターです☆
この春、12人の絆のスーパーパワーが奇跡を起こす! pic.twitter.com/GZp7rLjiAY

— 映画プリキュアスーパースターズ! (@precure_movie) 2018年1月7日
Source: Eiga.com
(C)2018 Movie PreCure Super Stars! Production Committee