"PriPara" TV anime series will end its four-year history next Tuesday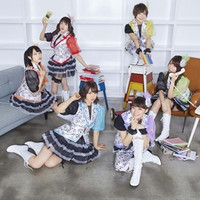 In the latest 50th episode of Idol Time PriPara aired in Japan last night, SoLaMi♡SMILE and Dressing Pafé performed the anime's last OP song "Memorial" together as their combined super unit SoLaMiDressing.
For the first time, the six-members of voice actress idol unit i☆Ris, who have voiced the characters of the two units for four years since the beginning of the PriPara anime series in July 2014, served as motion actors for the CG stage footage of the song. Avex Pictures has posted a three-minute behind-the-scenes clip for it with their messages to their characters.
The unit was formed by the six winners of the 1st Anison Vocal Audition held in August 2012. In addition to performing the six main characters as listed below, they also performed eight OP songs for the first series PriPara aired from 2014 to 2017.
[i☆Ris members and their PriPara characters]
Saki Yamakita (26): Sion Todo
Yu Serizawa (22): Mirei Minami
Himika Akaneya (23): Laala Manaka
Yuuki Wakai (22): Reona West
Miyu Kubota (22): Sophy Hojo
Azuki Shibuya (24): Dorothy West
The last 51st espisode of Idol Time PriPara, which is also the last 191st episode of the whole PriPara
anime series, will be aired in Japan on March 27.
本日放送のTVアニメ『アイドルタイムプリパラ』SoLaMiDressingライブCGシーンをi☆Risがモーションアクターで再現
off shot、比較シーン、メッセージ収録のSPムービー公開https://t.co/na4J7P7bBx

そして4th Live Tourロゴも解禁!
チケット発売中
→https://t.co/3PBuwccL8J#i_Ris #pripara pic.twitter.com/z6KrUZ8f0h

— i☆Ris (@iris_official_) 2018年3月20日
Following the two songs by The World Standard, i☆Ris have provided the third and final OP song for
Idol Time PriPara. The song "Memeorial" has been used since the sequel series' 40th episode aired on
January 9 and its CD single was already released as their 15th single on February 21.
"Memorial" short MV
Limited edition CD jacket
Regular edition
---
"PriPara" 1st season 1st OP song "Make it!" (August 20, 2014 release)
"PriPara" 1st season 2nd OP song "Miracle☆Paradise" (November 12, 2014)
"PriPara"1st season 3rd OP "Realize!" (February 18, 2015)
"PriPara" 2nd season 1st OP song "Dream Parade" (July 8, 2015)
"PriPara" 2nd season 2nd OP song "Bright Fantasy" (October 28, 2015)
"PriPara" 2nd season 3rd OP song "Goin'on" (February 17, 2016)
"PriPara" 3rd season 1st OP song "Ready Smile!!" (June 1, 2016)
"PriPara" 3rd season 3rd OP song "Shining Star" (March 8, 2017)
Source: i☆Ris official website
©2018 avex All rights reserved.