Omnibus film directed by one Japanese and two Chinese directors hits theaters this summer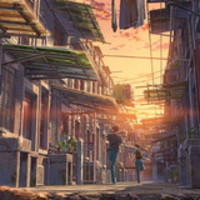 The official website for Tokyo-based anime production studio CoMix Wave Films (Your Name.)'s new anthology anime film Shikioriori today released a one-minute teaser introducing the scenery and atmosphere from its three short stories.
As reported, the anthology film is a collaboration project with Chinese animation company based in Shanghai, Haoliners (To Be Hero, The Silver Guardian), and its representative Li Haoling serves as general director. It consists of three short stories: "Hidamari no Chousyoku" (The Breakfast in Sunny Spot) by Chinese live-action film director Yi Zhenxing, "Chiisana Fashion Show" (A Small Fashion Show) by Yoshitaka Takeuchi (The Garden of Words, Your Name.3DCG chief), and "Shanghai Love" by Li Haoling. The stories of the three are all set in Chinese cities. In Japan, it is set for a release the summer of 2018.
Teaser
New background image arts posted on the film's official Twitter
各作品のコンセプトとなる【衣食住】をモチーフにした新たな3枚のビジュアルも解禁!

さらに、24~25日のAnimeJapan2018でコミックス・ウェーブ・フィルムブースでは、『#詩季織々』の最新情報がご覧いただけます。
お越しの際は、ぜひお立ち寄りください!#しきおり #animejapan pic.twitter.com/XfhA7NmHEh

— 『詩季織々』公式 (@shikioriori2018) 2018年3月22日
Source: "Shikioriori" official website, Twitter
© "Shikioriori" Film Partners