The five-minute disc dominated the Amazon Japan's anime DVD sales ranking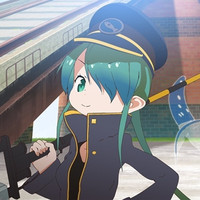 Former "Kemono Friends" director Tatsuki announced on his official Twitter yesterday that his original short anime Keifuku-san will be aired on Tokyo MX at 25:00 on March 27 (JST). He says, "It's the same single content with the web version, but being aired on a terrestrial television is unexpected...! Let's watch it together with grinning face."
突然ですが傾福さんがテレビアニメになります!TOKYO MXさんで3/27(火)25:00~
web同内容の単発ですがまさかの地上波放送ですよ…!一緒にニヤニヤ見ましょう~ #傾福さん pic.twitter.com/TMmQ6NY9er

— たつき/irodori (@irodori7) 2018年3月20日
The five-minute short has been available for free on his independent animation group irodori's official
YouTube channel since last December. Amazon Japan initially started accepting pre-orders for its DVD
for a February 5 release, but immediately had to stop it due to far more orders than expected just in
five days. As a result, the release was postponed for two weeks to February 19.
"Keifuku-san" full edition
Source: Tatsuki official Twitter