DVD/Blu-ray will be available at stores on October 3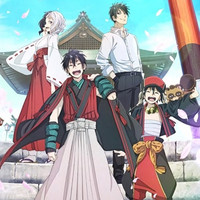 On the release day of the live-action film starring Souta Fikushi (Kamen Rider Fourze) in Japan, the official website for the trilogy anime film Donten ni Warau -Gaiden- also announced today that its third and final part "Ouka, Tenbou no Kakyo" (Cherry blossoms, Cross-bridge of Looking at the Sky) will get its theatrical screening from September 1. Its theater edition DVD/Blu-ray will be also sold at the theaters simultaneously, then the regular editions will be available at stores from October 3.
The trilogy anime project is based on the three-volume spin-off series of Kemuri Karakara's fantasy action manga Donten ni Warau/Laughing Under the Clouds. The first part "Ketsubetsu, Yamainu no Chikai" (Farewell, Yamainu's Oath) was already released on December 2, 2017, for a limited time of two weeks, and the second part "Shukumei, Soutou no Fuuma" (Destiny, the Twn-Headed Fuuma) is set to be released on June 9, 2018.
Main visual for the third part
【後篇情報解禁】さらに、劇場3部作最終章となる後篇『曇天に笑う<外伝> ~桜華、天望の架橋~』の上映が9月1日(土)に決定!メインビジュアル解禁となりました!今回のビジュアルは曇神社の前に立つ、空丸・武田・宙太郎・錦の4人組となっております!(宣伝ポン) #曇天外伝 #曇天に笑う pic.twitter.com/R4aVjLkcHU

— アニメ『曇天に笑う〈外伝〉』 公式 (@donten_anime) 2018年3月20日
Doubled flyer for the second and third parts
【劇場チラシ】先程解禁となりました、後篇『桜華、天望の架橋』と中篇『宿命、双頭の風魔』の2つ折りチラシが明日(3/21)から上映劇場他にて掲出!是非、見つけた際はお手にとって見て下さい (宣伝ポン) #曇天に笑う #曇天外伝 pic.twitter.com/ij8qinInQC

— アニメ『曇天に笑う〈外伝〉』 公式 (@donten_anime) 2018年3月20日
Manga author Kemuri Karakara draws a slipcase illustration for the third part DVD/Blu-ray regular edition
to be released on October 3.
⛩後篇BD&DVD発売決定!⛩

10/3(水)発売『#曇天外伝 』後篇BD&DVDは好評予約受付中

唐々煙先生描き下ろしBOX&漫画付きブックレットのほか、映像特典を収録

店舗別の購入特典もお見逃しなく♪

詳細はこちらhttps://t.co/SYrR6HJUAY#曇天に笑う pic.twitter.com/i1TSJtugbb

— アニメ『曇天に笑う〈外伝〉』 公式 (@donten_anime) 2018年3月20日
Source: "Donten ni Warau Gaiden" anime film official website, Twitter
©karakarakemuri / MAG Garden