Highly-anticipated new anime adaptation will kick off in Japan on April 3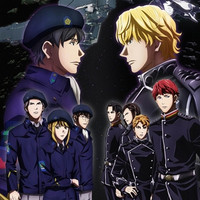 The official Twitter for the TV anime The Legend of the Galactic Heroes: Die Neue These today posted a main visual featuring its two protagonists: Reinhard von Lohengramm (Galactic Empire) and Yang Wen-li (Free Planets Alliance), along with their pals. You can also check three scene visuals from the upcoming first episode.
"Kaikou (Encounter)," the new anime's first season based on the novel's first volume "Reimei-hen/Dawn" will premiere on cable television station Family Gekijo on April 3 for a 12-episodes run. Then the second season "Seiran (Stellar War)" will be screened in Japanese theaters in three chapters including four episodes each in 2019.
Main visual
Scenes from the first episode
【メインビジュアル解禁】「銀河英雄伝説 Die Neue These」のメインビジュアルが解禁!さらに第1話よりあらすじ・先行カット到着!是非ご覧ください!https://t.co/q2b9zNDA9O #新銀英伝 pic.twitter.com/8vXREHwEU6

— 銀河英雄伝説DieNeueThese (@gineidenanime) 2018年3月22日
---
Main Voice Cast:
Reinhard von Lohengramm: Mamoru Miyano
Yang Wen-li: Kenichi Suzumura
Siegfried Kircheis: Yuichiro Umehara
Paul von Oberstein: Junichi Suwabe (Keigo Atobe in The Prince of Tennis)
Wolfgang Mittermeyer: Daisuke Ono (Sebastian Michaelis in Black Butler)
Oskar von Reuenthal: Yuichi Nakamura (Tatsuya Shiba in The Irregular at Magic High School)
Julian Mintz: Yuki Kaji (Eren Yeager in Attack on Titan)
Frederica Greenhill: Aya Endo (Miyuki Takara in Lucky Star, Sheryl Nome in Macross Frontier)
Alex Cazellnu: Tokuyoshi Kawashima (Hyoma Yoshimura in Concrete Revolutio)
Walter von Schenkopp: Shinichiro Miki (Takumi Fujiwara in Initial D)
Willibald Joachim von Merkatz: Unsho Ishizuka
Staaden: Kiyomitsu Mizuuchi
Vogel: Takahiro Fujiwara
Erlach: Naomi Kusumi
Adalbert von Fahrenheit: Ryota Takeuchi
Paetta: Shinya Fukumatsu
Pastore: Kosuke Meguro
Moore: Toru Sakurai
Lao: Tasuku Hatanak
Jean Robert Lapp: Yuuki Ono
Narrator: Yoshimitsu Shimoyama
1st PV
Source: "The Legend of the Galactic Heroes" new anime project official website, Twitter
© Yoshiki Tanaka/Shochiku, Production I.G