Two live-action bonus segments hosted by Ryuta Kijima and Kenichi Nagira will be also streamed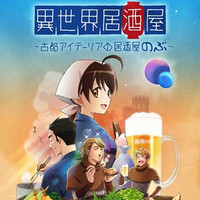 The official website for the upcoming TV anime adaptation of Natsuya Semikawa's fantasy light novel Isekai Izakaya "Nobu", titled Isekai Izakaya ~Koto Aiteria no Izakaya Nobu~ (Alternative World Izakaya ~Izakaya "Nobu" in the ancient city Aiteria~), announced today that it will start its worldwide simulcast on Bandai Channel an other services including Amazon Video and Hulu on April 13. Its TV on-air schedule has not been finalized yet.
In addition, two live-action bonus segments "NOBU+(plus)" hosted by famous Japanese chef Ryuta Kijima and TV personality Kenichi Nagira are also set to be streamed along with the anime.
"Kenichi Nagira: the Search for Izakaya Nobu"
-Every day, Izakaya Nobu makes its otherworldly guests happy with its delicious food. Kenichi Nagira,
expert on all things izakaya, searches for pubs in the real world that serve Nobu's iconic dishes.
【のぶ+その1】 「ぐるなび」全面協力のもと、異世界居酒屋「のぶ」に登場する絶品料理を現実世界で提供している居酒屋をなぎら健壱が訪ね歩く企画『なぎら健壱の「のぶ居酒屋」をさがして』https://t.co/Bn0hVR22ls #異世界居酒屋 pic.twitter.com/MSndcOjFHm

— アニメ「異世界居酒屋」 (@isekaiizakaya) 2018年3月23日
"Cooking Nobu's Dishes with Ryuta Kijima"
-Learn how to cook the dishes on Izakaya Nobu's menu with Japanese star chef Ryuta Kijima! He arranges
the many delicacies in his own, tasty way. Bring the real taste of Nobu straight to your own kitchen!
【のぶ+その2】 「のぶ」に登場する料理を料理研究家きじまりゅうたがオリジナルレシピで紹介する企画『きじまりゅうたの「創作のぶ料理」』という2つの企画で、居酒屋「のぶ」の魅力をより深くお届します。https://t.co/Bn0hVR22ls #異世界居酒屋 pic.twitter.com/5tGk8kalhf

— アニメ「異世界居酒屋」 (@isekaiizakaya) 2018年3月23日
---
Key visual
【速報】アニメ「異世界居酒屋」が4月よりバンダイチャンネル他にて、世界同時先行配信が決定しました!公式サイトが大幅にリニューアルし、新ビジュアルも公開です!!https://t.co/Bn0hVR22ls #異世界居酒屋 pic.twitter.com/lUPxqUNVcs

— アニメ「異世界居酒屋」 (@isekaiizakaya) 2018年3月8日
1st PV
Main Voice Cast:
Nobuyuki Yazawa: Tomokazu Sugita (Gintoki Sakata in Gintama)
Shinobu Senke: Suzuko Mimori (Umi Sonoda in Love Live!)
Hans: Atsushi Abe (Toma Kamijo in A Certain Magical Index)
Nikolaus: Showtaro Morikubo (Yusuke Makishima in Yowamushi Pedal)
Berthold: Katsuyuki Konishi (Shingen Takeda in Sengoku Nightblood)
Nobuyuki Yazawa: Tomokazu Sugita
Shinobu Senke: Suzuko Mimori
---
The anime adaptation is directed by Katsumi Ono (Yu-Gi-Oh! 5D's, Symphogear G/GX/AXZ), alongside
series composition writer Shin Yoshida (Yu-Gi-Oh! Duel , Monsters, Naruto Shippuden) and anime character
designer Mariko Ito (Log Horizon, Vivid Strike!). Sunrise works on anime production.
Synopsis:
On a deserted street somewhere in Kyoto resides a Japanese style pub called "Izakaya Nobu." But this hole
in the wall holds a secret: its entrance is mysteriously linked to another world! Chief Nobuyuki Yazawa and
his server, Shinobu Senke, have decided to open up business in this distant and strange land, an ancient city
known as "Aitheria." Palace guards, craftsmen, merchants, noblemen… Nobu's doors are open for business,
welcoming one and all with a cold beer and a warm meal!
The anime's official website site in four languages:
Japanese https://r.gnavi.co.jp/nobu/
English https://r.gnavi.co.jp/nobu/en/
Simplified Chinese https://r.gnavi.co.jp/nobu/zh-hans/
Traditional Chinese https://r.gnavi.co.jp/nobu/zh-hant/
Source: TV anime "Isekai Izakaya Nobu" official website, Twitter
© "Isekai Izakaya ~Koto Aiteria no Izakaya "Nobu" Production Committee
© Natsuya Semikawa, Kururi/Takarajimasha