Original work by Happy Elements features animation by Liden Films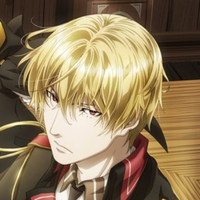 How do otherworldly monsters summoned into being by human fears spend their evenings? By running a cafe, of course! That's the premise of Phantom in the Twilight, an upcoming original TV anime set in modern day London where a small group of handsome demi-humans protect the boundaries between the human world and the shadow-realm all while working at a midnight cafe.
The staff of Phantom in the Twilight includes:
Original work: Happy Elements
Director: Kunihiro Mori
Series composition: Fumiaki Maruto, Shunsaku Yano
Story: Fumiaki Maruto
World setting: Shunsaku Yano
Original characters: Hidari
Character design: Megumi Yamashita
Creature design: Z-Ton
Design works:

Miwa Ōshima, Yasuhiro Moriki, Kyouko Kametani

Main animator: Hitoshi Ueda

Action animation director: Masaru Wada

Art setting: Masaki Yoshizaki

Art director: Kouki Nagayoshi

Color design: Emiko Onodera

Director of photography: Yasuhiko Abe

Editor: Tomomi Umezu

Sound director: Jin Aketagawa
Sound production: Magic Capsule
Music: TOMISIRO
Music producer: Bunsho Kido
Executive producer: Chiamin Lai
Producer: Takeshi Hagiwara, Qingning Li, Banri Hoshino, Nao Hirasawa
Assistant producer: Zhang Xiaoyu, Yang Yuchen, Liu Yang
Associate producer: Katsunori Kubo
Supervisor:

Katsushi Ōta

Production manager:

Tetsurō Satomi

Animation producer: Atsushi Hashimoto

Animation production: Liden Films

Production: Happy Elements Asia Pacific Inc.
The cast of Phantom in the Twilight includes:
Kana Hanazawa as Bayrou Ton, an 18 year old college student who moved to London after graduating high school. Bayrou doesn't know it, but her great-grandmother was a powerful Taoist magician, and Bayrou has inherited her ancestor's power.
Takahiro Sakurai as Vlad Garfunkel, a vampire and the leader of the "Cafe Forbidden" staff. Vlad has sworn off drinking human blood, but his extremely long undead existence has made him prideful and lazy. Vlad is in charge of brewing all of the cafe's tea, and he's a bit obsessed with maintaining its quality.
Nobuhiko Okamoto as Luke Bowen, a werewolf who acts as the chef for "Cafe Forbidden". Luke has a bright and sunny personality, and he makes friends easily. Luke specializes in Italian food, especially peperoncino​, and he often gets in fights with Vlad over his use of garlic in the cafe's dishes.
Tomokazu Sugita as Tohryuu, a jiangshi ("Chinese hopping vampire") who is in charge of the dining hall of the "Cafe Forbidden". Tohryuu has a quiet and serious personality, but sometimes he's a little too diligent and a bit of an airhead. He was created to serve as a weapon, but now Tohryuu possesses a human mind. He emigrated from China to England.
And Daiki Yamashita as Wayne King, an unidentified mysterious pretty boy.
Phantom in the Twilight takes place in a modern London where monstrous beings known as "shadows" are born out of human fears. A young woman named Bayrou Ton gets mixed up in a strange incident as soon as she arrives at college, and then she discovers a mysterious midnight eatery known as "Cafe Forbidden". The employees of "Cafe Forbidden" are "shadows" who protect the boundary between the human world and the shadow-realm, and Bayrou's great-grandmother was the cafe's original owner and a powerful magic-user.
Phantom in the Twilight will broadcast on Tokyo MX, BS Fuji, and other stations beginning in July of 2018.
Sources:
Official Phantom in the Twilight TV anime home page
---
Paul Chapman is the host of The Greatest Movie EVER! Podcast and GME! Anime Fun Time.