The final sixth chapter will be screened in Japanese theaters from May 5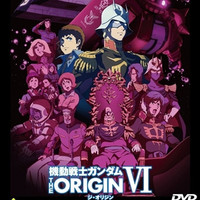 The official website for the Mobile Suit Gundam: The Origin anime series announced today on March 28 that the anime project will conclude with "Tanjou, Akai Suisei/Rise of The Red Comet," the upcoming second episode of its two-part "Battle of Loum" arc.
With the announcement, the site also thanks to the fans for their support, "This remarkable development would have never happened without passionate support from longtime loyal fans such as yourselves. We deeply appreciate your backing. Please enjoy the last episode, "Rise of the Red Comet," which will be released theatrically on Saturday, May 5th."
The anime adaptation is based on the original Gundam character designer Yoshikazu Yasuhiko's Gundam: The Origin manga, which was inspired by the first Gundam TV series in 1979-1980. The final sixth episode will get theatrical screenings in select 35 theaters across Japan from May 5, 2018,
for a limited time of four weeks. Then its DVD/Blu-ray will be released on July 13.
Back in August 2017, Yasuhiko reportedly expressed his desire to animate more stories from his Gundam
The Origin manga, focusing on the main part of the One Year War story. And fans expected it would be a
remake of the TV anime first series in his own style. But the possibility is now officially denied.
"Mobile Suit Gundam: The Origin" anime episodes:
"Aoi Hitomi no Casval/Blue Eyed Casval" (February 28, 2015)
"Kanashimino Artesia/Artesia's Sorrow" (October 31, 2015
"Akatsuki no Houki/Dawn of Rebellion" (May 21, 2016)
"Unmei no Zen'ya/Eve of Destiny" (November 19, 2016)
"Gekitotsu Loum Kaisen/Clash at Loum" (September 2, 2017)
"Tanjou, Akai Suisei/Rise of the Red Comet" May 5, 2018)
---
"Rise of the Red Comet" 2nd trailer
DVD jacket
Source: "Gundam The Origin" anime official website
© Sotsu/Sunrise