28-year-old Kento Kaku (Ranma 1/2) is set to play one of the two protagonists, Takashi Mitsuhashi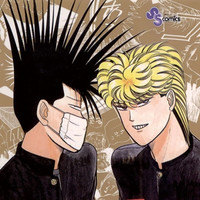 Nihon TV announced today that 49-year-old Yuichi Fukuda (Gintama, The Disastrous Life of Saiki K. live-action films) is attached to write/direct a TV drama adaptation of Hiroyuki Nishimori's thug-themed comedy manga Kyo Kara Ore Wa!! (I will be, from today on). The drama is set to premiere on the station in October 2018. Fukuda is also currently working on the Gintama live-action film sequel to be released on August 17, 2018.
The manga was first serialized in Shogakukan's Zoukan Shonen Sunday from 1988 to 1990, then moved to the publisher's Weekly Shonen Sunday and ended its serialization in 1997. It was compiled in 38 tankobon volumes and its total print run including all editions (wide, bunko, convenience store editions) has surpassed 40 million copies. This is the second live-action adaptation in 20 years since the "Toei V-Cinema" direct-to-video series in the mid-1990s and a feature film in 1994 made by the same staff and cast.
The story centers on two boy thugs at Nanyo High School, Takashi Mitsuhashi and Shinji Ito. The two
have totally different personalities. Mitsuhashi with dyed blond hair is clever but tricky, while Ito with
punkish pointed hair has a strong sense of justice and duty. The two start their high school life to
become the strongest delinquents in Japan.
28-year-old Kento Kaku, who played the male Ranma Saotome in the Ranma 1/2 TV drama in 2011,
is set to play one of the two protagonists, Takashi Mitsuhashi. Other cast are scheduled to be revealed
on April 5.
Yuichi Fukuda and Kento Kaku
あの伝説のヤンキー漫画を福田雄一が、主演・賀来賢人で連ドラ化!

⬆︎答え⬆︎
あの◯◯の◯◯◯◯◯◯を◯◯◯◯が、◯◯・◯◯◯◯で◯◯◯◯!#スーパーサラリーマン左江内氏 #左江内公式は今日から今日俺公式 #今日から俺は #今日俺 #賀来賢人 #福田雄一 #西森博之 #ピタリ賞 pic.twitter.com/xbe6gwIyUx

— 【公式】今日から俺は‼︎ (@kyoukaraoreha_n) 2018年3月28日
【動画】
賀来賢人と福田監督が「今日から俺は‼︎」に懸けるアツーイ意気込みをゆるーく語る動画が番組HPで見られます!今すぐチェックhttps://t.co/Q0AUbzpO0V#賀来賢人 #福田雄一 #西森博之#今日から俺は #今日俺 pic.twitter.com/Lf2jVfVKku

— 【公式】今日から俺は‼︎ (@kyoukaraoreha_n) 2018年3月28日
Original manga tankobon 1st and 38th volume covers
Source: TV drama "Kyo Kara Ore Wa!!" official website, Twitter
© Nippon Television Television Corporation © Hiroyuki Nishimori/Shogakukan