Jun Kawagoe (Cyborg 009 VS Devilman) serves as director at TMS Entertainment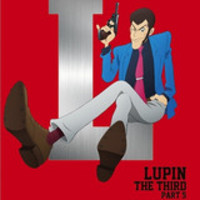 At the same time with the premiere of its TV anime fifth season, it was also announced that a DVD of "Lupin wa Ima mo Moeteiruka?/Is Lupin still burning?," a memorial anime episode to celebrate the 50th anniversary of Monkey Punch's Lupin the Third manga series, will be bundled with the DVD/Blu-ray first volume of the fifth season as a premium bonus item.
The title of the episode is obviously a homage to the first epsiode of the TV anime first season aired in October 1971, "Lupin wa Moeteiruka...?!/"Is Lupin Burning...?!" The first DVD/Blu-ray disc including the fifth season's first five episodes is set to be released on July 25.
The special episode is directed by Jun Kawagoe (Cyborg 009 VS Devilman), along with the original manga creator Monkey Punch as general director. The ongoing season's Hisao Horikoshi and the recent TV specials' Satoshi Hirayama serve as character designers. In the story, Lupin's many
rivals from the past series, such as Kyosuke Mamo, Sandayu Momochi, Pycal, and Stoneman, once
again challenge the battle against Lupin. And the story development in the first season's first episode,
introducing Fujiko captured by the enemy's boss, Mr.X, will be faithfully reanimated.
"LUPIN THE 3rd Part 5" Blu-ray 1st volume jacket
---
The highly-anticipated latest installment LUPIN THE 3rd Part 5 premiered in Japan on April 2, and
is also available to Crunchyroll members in the following territories: North America, South and
Central America, UK, Ireland, Australia, New Zealand, South Africa.
Official trailer
Watch the "Lupin The Third" TV series on Crunchyroll:
---
Source: "Lupin The Third" anime official website
©TMS ©Monky Punch/TMS・NTV