Series premieres on 4/5 at 9:00AM PDT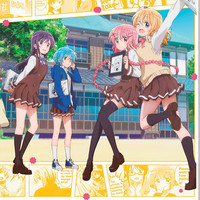 Crunchyroll is excited to announce the latest addition to its jam packed simulcast lineup in Comic Girls! The series will premiere on Thursday April 5th at 9:00AM PDT for Crunchyroll members worldwide except for members in Asia and German-speaking Europe.
Moeta Kaoruko (Pen name: Kaos) is 15 years old, a high school student and 4-panel manga artist!


After moving to a dorm especially for female manga artists, she meets shojo manga artist Koyume, teen romance manga artist Ruki, and shonen manga artist Tsubasa. Every day, they'll work all through the night trying to ink and finish their work!


Her cute, funny life in a manga artist dorm is about to begin!
Stay tuned to Crunchyroll for more simulcast announcements!