Two-member unit's latest 3rd single "LONELY ALICE" hits stores May 23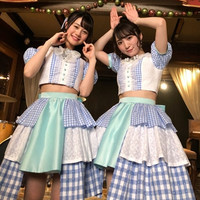 Teichiku Entertainment's official YouTube music channel has posted a two-minute music video for "LONELY ALICE," the third single of voice actress unit Pyxis, consisting of 23-year-old Moe Toyota (Sapphire Kawashima in Sound! Euphonium) and 21-year-old Miku Ito (Nanako Usami in Locodol). The song is now featured as the ED theme for the spring 2018 TV anime Alice or Alice premiered in Japan yesterday.
Both Toyota and Ito passed the first Style Cube voice actor audition in 2012, then joined voice actress unit StylipS in the following year. While performing as members of the unit, the two also formed their own unit Pyxis in 2015 and have released two singles and two albums. "LONELY ALICE" is their second anime theme song work, following their first single song "FLAWLESS" that was used as the ED theme for the TV anime Duel Masters VSRF in 2016-2017. Their third single is set to be released in Japan on May 23.
"LONELY ALICE" short MV
本日スタートしたTVアニメ『ありすorありす』のEDテーマ『LONELY ALICE』のMVが公開されましたー! https://t.co/MvPmA74DhD
2018年5月23日だよー!みてねー! #Pyxis pic.twitter.com/45AsoJLLjO

— 豊田萌絵 (@toyotamoe) 2018年4月4日
5/23発売の「LONELY ALICE」のMVが公開されました^ ^
作品に寄り添った可愛らしい楽曲となりました!個人的にはサビの掛け合いが好きです。発売まで沢山見て楽しみにしていて下さい♪(みく)https://t.co/xGP44TEzNF pic.twitter.com/lFKHuR2V5O

— 伊藤美来 公式info (@InfoItomiku) 2018年4月4日
Source: Teichiku Entertainment press release
© Teichiku Entertainment