Tadayoshi Sasaki (My Wife is the Student Council President!+!) serves as director at Studio Seven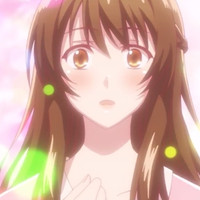 The official website for the upcoming TV anime adaptation of Mai Mochizuki's light mystery novel series Kyoto Teramachi Sanjo no Holmes today released a 45-second first PV to introduce the voices of its two main characters: Aoi Mashiro by Miyu Tomita (Yume Nijino in Aikatsu Stars!) and Kiyotaka Yagashira by Kaito Ishikawa (Rinne Rokudou in Rin-ne), for the first time.
Kaito Ishikawa and Miyu Tomita
PVで初公開となったキャストは、真城葵役・富田美憂さん、家頭清貴役・石川界人さんに決定!公式HPでは、役に対する意気込みなど、お二人からのコメントを掲載しております。こちらもぜひご覧ください!https://t.co/R5voMFmWf9 #京都ホームズ pic.twitter.com/OpEP087LQc

— TVアニメ「京都寺町三条のホームズ」公式 (@teramachi_holme) 2018年4月12日
The novel series was first posted on Japanese user-generated novel publishing website Every Star, then
its print editions have been published from Futabasha's Futaba Bunko imprint since April 2015. So far
eight volumes have been released.
The story centers on Aoi Mashiro, a high school girl in her second year. She visits an antique shop
named "Kura" in the Teramachi Sanjo shopping district, Kyoto, to get an appraisal of her deceased
grandfather's antiques. Then she meets the shop's connoisseur Kiyotaka Yagashira. Though looking
gentle, elegant, and soft, he has a sharp, observant eye, and is called "Holmes." He immediately sees
through that she has taken the antiques without her family's permission, and offers a part-time job
at the shop to her, who really needs money. From that day, she starts being involved in various cases
that are connected to antiques and Kyoto with him.
---
Tadayoshi Sasaki (My Wife is the Student Council President!+!) is attached to direct the TV anime
adaptation, alongside series composition writer Kenichi Yamashita (ROBOMASTERS THE ANIMATED
SERIES) and character designer/chief animation director Yosuke Ito (Hybrid x Heart Magias Academy
Ataraxia). Animation Studio Seven (King's Game The Animation) works on anime production.
The Kyoto Teramachi Sanjo no Holmes TV anime is set o premiere in Japan in July 2018.
Teaser visual
エブリスタ原作を元に双葉文庫で刊行中の大人気キャラミス「京都寺町三条のホームズ」が2018年夏にアニメ放送決定!さらに、アニメティザービジュアルを公開いたしました!最新情報をお届けしますので、フォローよろしくお願いします! #京都ホームズ
公式Twitterアカウントはこちら→@teramachi_holme pic.twitter.com/X35KHxYG64

— TVアニメ「京都寺町三条のホームズ」公式 (@teramachi_holme) 2018年3月11日
Source: TV anime "Kyoto Teramachi Sanjo no Holmes" official website, Twitter
©Mai Mochizuki, Ichiha Akizuki/DEF STUDIOS
©"Kyoto Teramachi Sanjo no Holmes" Production Committee