Ennosuke Ichikawa IV returns to the part of Luffy after five months hiatus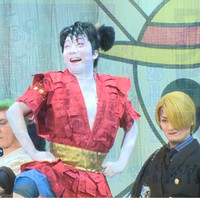 To promote the ongoing second run in Osaka, Shochiku's official YouTube channel has posted a 160-second digest video from "Super Kabuki II One Piece", the very successful kabuki play inspired by Eiichiro Oda's internationally popular manga series One Piece.
As reported, 42-year-old kabuki star Ennosuke Ichikawa IV, who has played Monkey D. Luffy, Boa Hancock and Shanks in the kabuki, broke his left arm in the end of the performance at Shinbashi Enbujo in Tokyo on October 9, 2018, then was forced to leave the show for hospitalization. 25-year-old Ukon Onoe, who was originally cast as Sadi and Marco, served as his replacement. In this second Osaka run, Ichikawa has returned as Shanks in the 11:00 show and as Luffy and Hancock in the 16:30 show. Instead, Onoe plays Luffy and Hancock in the former, Shanks in the latter.
"Super Kabuki II One Piece" is scheduled to be performed at Osaka Shochikuza twice in a day at 11:00
and 16:30 from April 1 to 25.
"Super Kabuki II One Piece" Osaka performance digest
CM
Flyer visual for the second run in Osaka
Flyer visual for the second run in Tokyo (October-November 2017)
Source: Shochiku official YouTube channel
© Eiichiro Oda/Shueisha, Super Kabuki II "One Piece" Partners