The highly-anticipated kaiju film sequel opened in Japan yesterday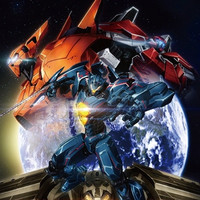 52-year-old accalimed robot anime director/designer Masami Obari draws a special collaboration art for Pacific Rim: Uprising, a sequel to Guillermo del Toro's 2013 movie Pacific Rim, for its Japanese release starting on April 13. It was revealed at the opening day event for the film held at the Toho Cinemas Hibiya theater in Tokyo yesterday. According to an interview with him and Uprising director Steven S. DeKnights, the art was all hand-drawn, using no CGs.
Obari has worked on so many robot anime series in his 35-year career, including Ordian (2000), Gravion (2002, 2004), Dancouga Nova (2007), and Super Robot Wars OG (2010), as director/designer. His distinctive drawing style is often praised as "Bari-Mecha" among anime fans.
\奇跡のコラボ続々‼️/
日本屈指の天才アニメーター、#大張正己(@G1_BARI )さんがイェーガーを描く『#パシリム』愛がひしひしと伝わる、超胸アツなコラボアートが解禁‼️‼️

大張正己さんコメントはコチラhttps://t.co/lctFRVfpTs#パシリムおかえり pic.twitter.com/wdkojEiIht

— パシフィック・リム 公式 (@PacificRim_JP) 2018年4月13日
Photos from the opening day event with four of the Japanese dub voice cast:
(from left)
Kaito Ishikawa (Levi Meaden/Ilya)
Saori Hayami (Cailee Spaeny/Amara Namani)
Yuichi Nakamura (John Boyega/Jake Pentecost)
Nanako Mori (Ivanna Sakhno/Viktoriya "Vik" Malikova)
\『#パシリム』初日舞台挨拶‼️/#中村悠一 さん、#早見沙織 さん、#森なな子 さん、#石川界人 さん登壇聖地・日本の誇りを胸に超豪華声優が集結しました#大張正巳 さんの"バリってる"コラボアートが披露され会場中がテンションMAXに‼️
詳細はhttps://t.co/8HwsNCbvsQ#パシリムおかえり pic.twitter.com/m6Ey0vluG9

— パシフィック・リム 公式 (@PacificRim_JP) 2018年4月13日
Video report (via: MAiDiGi TV)
Japanese trailer
Source: "Pacific Rim: Uprising" Japanese official Twitter
(C)Legendary Pictures/Universal Pictures.