Still, director Fukuda doesn't deny the appearance of Jiro Sato as Kagura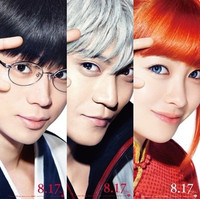 As expected by fans, the official website for the upcoming Gintama live-action film sequel confirmed today on April 16 that Masaki Suda (25) and Kanna Hashimoto (19) are reprising their well-received roles as Shinpachi Shimura and Kagura, respectively.
Shun Oguri as Gintoki Sakata:
"From the beginning, Fukuda-san has told me that he wanted to make more than one film. Thankfully, the first film was watched by so many people, and I'm happy to be able to continue."
#小栗旬 (坂田銀時役)コメント
「当初から福田さんからは何本かやりたいという話は伺っていたので、ありがたいことに前回お客さんが来てくれたおかげで、続けることができてよかったです。#映画銀魂 pic.twitter.com/bJcLBL4sOu

— 映画『銀魂2(仮)』公式 (@gintama_film) 2018年4月15日
Masaki Suda: Shinpachi Shimura:
"Because we were already talking about making a sequel during the filming of the first one, we have
naturally planned ahead. While people often talk about a possibility of a sequel to many other films,
it is very rare to see it really happen, so I'm very happy about this."
#菅田将暉 (志村新八役)コメント
「前作の撮影の時にはもう続編をやろうと話していたので、僕らは自然と作るつもりでいました。続編の話は他の作品でも話題にあがりますが、実現できることは数少ないのでとても嬉しかったです。#映画銀魂 pic.twitter.com/rK2GpMcUD3

— 映画『銀魂2(仮)』公式 (@gintama_film) 2018年4月15日
Kanna Hashimoto as Kagura:
"I strongly felt that the hurdles of comedy had been raised so high in the sequel, so I practiced my
expressions for various scenes a lot before the filming. I was able to perform congenially with big
smiles in the scenes of the three members of Yorozuya, saying 'It's so fun!.'"
#橋本環奈 (神楽役)コメント
「2ではどんどん笑いのハードルが上がってきていることを強く感じて、色々なシーンの表情をすごく練習して撮影に入ったので、万事屋3人のシーンは『楽しい楽しい』と大笑いしながら和気藹々と演じる事が出来ました。 #映画銀魂 pic.twitter.com/THm3HF4HEg

— 映画『銀魂2(仮)』公式 (@gintama_film) 2018年4月15日
All the filming was wrapped up by April 7. While its official title has not been announced yet, the highly-
anticipated live-action sequel is set to be released in Japan on August 17, 2018.
\\続投決定ィィィ//#小栗旬 に続き、#菅田将暉 & #橋本環奈 も続投決定
銀時、新八、神楽の万事屋そろって2(ピース)のポーズで登場
こんどの銀魂は全部2倍#映画銀魂 https://t.co/O4eMgzHwRk pic.twitter.com/U0vZ3OXGOi

— 映画『銀魂2(仮)』公式 (@gintama_film) 2018年4月15日
---
Since the launch of the sequel project, director Yuichi Fukuda has been teasing a possible appearance
by 48-year-old actor Jiro Sato (who played Henpeita Takechi in the first) as the main heroine Kagura
in the sequel. It seems that he still doesn't give up the idea. At the same time with the announcement
for Kanna Hashimoto's return as Kagura, Fukuda says on Twitter:
"The rumor about Jiro Sato playing Kagura is finally denied... No! We don't know that yet!"
佐藤二朗、神楽説、遂に崩壊

いや!まだわからんぞ! https://t.co/zTh52S4kqS

— 福田 雄一 (@fukuda_u1) 2018年4月15日
Jiro Sato tried to wear Kagura's costume in February.
佐藤二朗さんの衣装合わせなんですが、採寸したわりには、かなり小さく出来上がって来てしまい、イチから作り直しです明らかに衣装部のミスですpic.twitter.com/LAp77M8jjz

— 福田 雄一 (@fukuda_u1) 2018年2月12日
Source: "Gintama" live-action film website/Twitter, Yuichi Fukuda Twitter,
(C)Hideaki Sorachi/Shueisha (C)2017 Movie "Gintama" Production Committee