Ayana Taketatsu judges the worthiness of the McDonald's favorite's new variant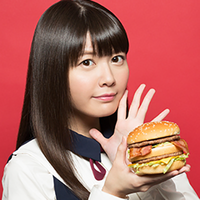 Japan is, as usual, ahead of us in the fast food arms race. To celebrate the 50th anniversary of the Bic Mac, McDonald's is testing out their new Bic Mac Bacon at Japanese locations. And celebs are joining the taste test to decide whether the new variant is worthy of the Big Mac name.
Previously tested in Canada, the Big Mac Bacon is pretty much exactly what it sounds like: the same burger you're used to, with the addition of two strips of bacon on the top later. The chain is also testing out the Big Mac BLT, which is similar but adds slices of tomato.
To get the ball rolling for the nationwide taste test, Mickey D's has enlisted four celebrity judges to offer their take on the burger. Among them is voice actress Ayana Taketatsu (Azusa in K-ON! and Leafa in Sword Art Online), who approved the addition and said it makes the Big Mac even more delicious. (She threw in that she's a fan of chicken nuggets, too.)
Also offering their opinions are actress and model Miwako Kakei (who considers it a proper Big Mac as long as it includes the secret sauce), actress and gravure idol Hinako Sano (who thinks the Big Mac is perfect as is and doesn't need anything added), and comedian Dandy Sakano (who's been eating Big Macs for 25 years and likes them just as they are, thank you).
With the celebrity vote evenly split, diners can decide for themselves when the Big Mac Bacon and Big Mac BLT hit Japanese McD's this week.
Source: Ota-Suke, BurgerLove.jp
-----
Kara Dennison is responsible for multiple webcomics, and is half the creative team behind the OEL light novel series Owl's Flower. She blogs at karadennison.com and tweets @RubyCosmos. Her work can currently be read in Stranger Tales of the City from Obverse Books.