Yoshito Nishouji (Koro Teacher Quest) serves as director at Lerche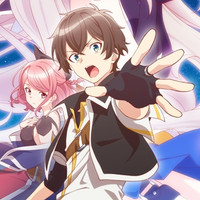 Today on April 18, the production committee of the upcoming TV anime adaptation of Noritake Tao's light novel Shichisei no Subaru/Seven Senses of the Re'Union revealed its first key visual and detailed information including its broadcasting schedule and main staff. The anime's official website and Twitter also opened.
The TV anime is set to premiere on TBS on July 5, then on its BS channel BS-TBS two days later. In early June, a special web program "Shichisei no Subaru Guilmen (Guild Member) Night" (tentative title) will start streaming on Nico Nico Live. Its first show will introduce the anime's main voice cast and first PV.
"Shichisei no Subaru/Seven Senses of the Re'Union" first key visual
Main Staff:
Director: Yoshito Nishouji (Koro Teacher Quest)
Series Composition: Takao Yoshioka (Interviews with Monster Girls, Konohana Kitan)
Character Designer/Chief Animation Director: Yumiko Yamamoto (Konohana Kitan episode animation director)
Anime Production: Lerche (Hakumei and Mikochi, Konohana Kitan)
---
The light novel series has been published from Shogaukan's GaGaGa Bunko imprint since August 2015
and currently six volumes are available in Japan.
The press release introduces the story as below:
In the internationally popular MMORPG "Union," there was a legendary party called "Subaru" consisting of
elementary school friends. But one of its members, Asahi Kuga died in the real world at the same time when
she was over in the game. As a result, "Union" stopped its service and the other members of "Subaru"
became separated. After six years from the incident, Haruto Amou, a member of "Subaru" who now becomes
a high school boy, logs in to the new "Re'Union" and meets his childhood friend Asahi, who was supposed to
be dead six years ago. Is she a digital ghost, or something else?
The catchphrase is:
"This is a story about the 'promises' among childhood friends, to be told in an online game."
---
Main Character Visuals:
Haruto Amou
Asahi Kuga
Satsuki Usui
---
Novel 1st and 2nd volume covers
Source: TBS TV press release
(C)Noritake Tao, Shogakukan/"Seven Senses of the Re'Union" Production Committee