O que é que está acontecendo afinal, alguém pode me explicar?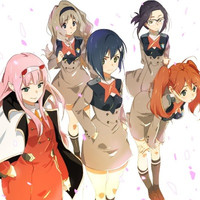 A conta particular do Twitter do produtor de DARLING in the FRANXX, Yuuichi Fukushima, foi inundada com mensagens de raiva e assédio desde que o 14º episódio da série foi exibido. O episódio em questão mostrou o triângulo amoroso entre os personagens Hiro, Zero Two e Ichigo, onde muitos fãs tiveram uma reação negativa sobre o comportamento e as atitudes da Ichigo.
Fukushima escreveu dois tweets sobre o 14º episódio da série em 14 de abril. O primeiro tweet agradece a equipe do episódio por seu trabalho e pediu que os telespectadores continuem assistindo ao programa na semana que vem. O segundo tweet complementou a sequência final do episódio.
Os comentários que se seguem aos tweets foram desde decepção com o episódio até ameaças de morte ao produtor e também ao roteirista Hiroshi Seko.
Em um dos tweets enviados, houve uma imagem manipulada da personagem Zero Two segurando uma arma enquanto dizia "Ahh!". Em outros comentários, os fãs pedem que Fukushima queime o escritor ou até mesmo sugerem que Seko se mate.
Até uma hashtag, #Bitchigo, foi criada para mostrar o desagrado dos fãs com a personagem Ichigo, com mensagens em japonês, chinês e inglês.
Pessoalmente, acho que esses fãs fanáticos deviam ler a excelente matéria do nosso colega portugassis2 DARLING in the FRANXX: uma reflexão em defesa da Ichigo, muito lúcida e capaz de acalmar os corações mais brutos e exaltados.
Fonte: ANN
---
FabioLuz é redator da CrunchyNotícias para a Crunchyroll.pt, além de metido a escritor de romances e Light Novels sob o pseudônimo de Isao Ooyama. É obcecado por notícias sobre número de vendas de BDs/DVDs, mangás e Light Novels no Japão. Quer saber se o seu anime vendeu bem? Pergunte a ele! Siga-o no Twitter: @FabioLuzCR