Jun Shison (Ressha Sentai ToQger)-starring idol comedy film will open on June 15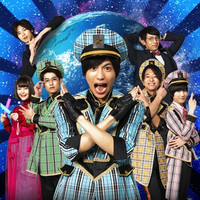 The 10th Okinawa International Movie Festival holds a world premiere screening of the live-action feature film adaptation of Yuna Takagi's comedy manga DOLMEN X today at 13:30 (JST). also today, the film's official website starts streaming a 90-second full trailer with newly-added footage for the film, including the scenes set 15 years after the TV drama.
The manga was serialized in Shogakukan's monthly magazine HiBaNa and released four tankobon volumes. The story centers on four aliens who seek to invade the earth through male idol activities, such as street live performances, stage plays and musicals. 22-year-old Jun Shison, best known as Right/ToQ 1gou in Toei's 38th Super Sentai series Ressha Sentai ToQger, stars as "the leader" of the alien idol group.
The four-episode TV drama was aired on Nihon TV in March 2018, then a compilation film with a sequel
story that is set 15 years after the TV drama is set to be released on June 15.
Full trailer
The official website of the 10th Okinawa International Movie Festival introduces the film's story as below:
Handsome aliens, Captain Ichii, Nii, and Sai come to earth from their planet, and meet Idol otaku Yoi.
Their mission is to invade this green, water-rich planet earth "without dirtying the planet, making war,
or being noticed by the earthlings". However, two months have passed without progress as they are unable
to come up with a dreamlike way of making this happen. Then one day they are invited by Yoi to see a
concert by a male idol group. As they see the cheering reactions of the enthusiastic female fans to the
passionate performance, the Captain and his fellow aliens are overwhelmed. They suddenly get a tremendous
idea. They then begin their reckless journey to become idols, to "gain the hearts of these reckless earthlings
in order to invade them!"
Poster visual
Source: "DOLMEN X" live-action film official website
© Yuna Takagi/Shogakukan Inc.
© 2018 "Movei DOLMEN X" Production Committee