"His 'Spirited Away' is one of the greatest animated films ever made."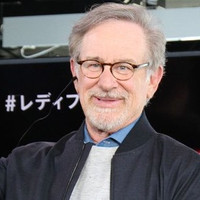 After the Japanese premiere event for his latest film Ready Player One yesterday, director Steven Spiellberg also attended a talk session along with three cast of the film: Tye Sheridan (Parzival/Wade Watts), Olivia Cooke (Art3mis/Samantha Cook), and Win Morisaki (Daito/Toshiro). In the session with Japanese students who were hoping to work in the film industry and become visual creators, he spoke about his love for Japanese pop culture and meeting with renowned anime director Hayao Miyazaki in the past.
"I think my favorite Japanese character is the motorcycle from Akira. I love that machine," then he added, "The runner-up for me, I gotta love MechaGodzilla." Asked about his impression of Japanese artists' creativity, he answered, "I especially, you know, admire the whole world of Miyazaki, and his taste and his storytelling abilities. His Spirited Away is one of the greatest animated films ever made, might be better than any Disney film I've ever seen. He was a real influence I got."
"I got to meet him. I brought my daughter here to Tokyo and I had a chance about eleven or twelve years
ago to meet with him," then remembered the content of their conversation, "We talked about the process of
what comes first, the story or the characters. And he was expressing the fact that the story is the character.
For him, the characters are the story."
MAiDiGI TV has posted three video reports of the event. Spiellberg mentioned Akira and Miyazaki in the
middle of the second video (03:40-08:45).
Talk session in Tokyo Part 1
Part 2
Part 3
スティーブン・スピルバーグ:宮崎駿を絶賛 1年前に娘と一緒に面会「本当にスペシャルな体験だった」 https://t.co/11SkskGUMb

— MANTANWEB (まんたんウェブ) (@mantanweb) 2018年4月19日
via: Mantan Web