TV anime "Mister Ajikko" OP song "Renaissance Jounetsu" is also available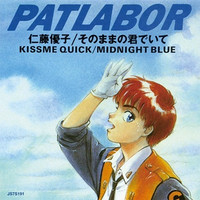 As part of the "RECORD STORE DAY" campaign being held in Japan today, Japanese idol Yuko Nitou's fourth single "Sonomama no Kimi de ite" gets reissued on vinyl at 1,620 yen. The song was used as the OP theme for the first 34 episodes of Mobile Police Patlabor: The TV Series aired in Japan from October 1989 to September 1990. As with the original release, the single also includes the anime's first ED theme "MIDNIGHT BLUE" performed by KISSME QUICK.
The CD single of the song was released from VAP on December 2, 1989, and ranked 52nd in the Oricon weekly single ranking. A very few amount of its vinyl edition were made for promotional use. After 29 years since its original release, the EP gets its first commercial vinyl release. Along with other singles, including "Renaissance Jounetsu" by Wataru Kuniyasu (1987-1989 TV anime Mister Ajikko OP), it is now available at the recored stores across Japan that join the campaign.
仁藤優子 / KISSME QUICK-そのままの君でいて / MIDNIGHT BLUE (7")
89年から90年にかけて放送されたアニメ『機動警察パトレイバー』。仁藤優子による主題歌「そのままの君でいて」が初のジャケット付でアナログ・リイシューです。#レコードストアデイ https://t.co/eDnSUIY9xv pic.twitter.com/uMnt2uCKf7

— RECORD STORE DAY JAPAN (@rsdjapan) 2018年4月20日
"Patlabor" manga author Masami Yuuki has already received the EP.
"By the way, an amazing new product was sent to me. 17 cm EP record. I can't listen to it (laugh)."
ところで、すごい新商品が送られてきたよ。17cmEP版レコード。聴けません(笑) pic.twitter.com/OZCVxE9Pa2

— ゆうき まさみ (@masyuuki) 2018年4月20日
Source: RECORD STORE DAY official store
©HEADGEAR・BANDAI VISUAL・TFC・NTV