You can also find Grendizer, Spazers, and Getter Machines in the background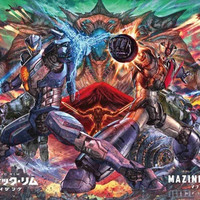 To promote the ongoing theatrical run in Japan, the official Japanese website for Pacific Rim: Uprising has posted another collaboration art featuring Gipsy Avenger from the sequel film and one of Japan's most well-known super robots, Mazinger Z, from its latest feature Mazinger Z: Infinity released in January.
The special art was produced in collaboration with Go Nagai's Dynamic Planning. In addition to other Jaegers, you can also find UFO Robot Grendizer, the three Spazers (Double, Marine, Drill), and the three Getter Machines from Getter Robo in the background.
Pacific Rim: Uprising, a sequel to Guillermo del Toro's 2013 movie Pacific Rim, was released in Japan on April 13, three weeks later than the US. It earned 279 million yen in its opening weekend, which was 134.1% of that of the fist film that made 1.55 billion yen from its total run in Japan.
\\『#パシリム』大ヒット記念‼️//

マジンガーZが"後輩"のイェーガーと夢の共演両ファン号泣必至の激レアすぎるコラボアート完成#GW はパシリムで決まりだぜ‼️

フォロー&RTでコラボポスター(B0サイズ)を5名様にプレゼント当選者には後日DMします。※応募〆切5/6@mazingerzjp

— パシフィック・リム 公式 (@PacificRim_JP) 2018年4月24日
---
Collaboration art by Hidetaka Tenjin (Godzilla: City on the Edge of Battle)
\KAIJU級のコラボが実現/
『#パシリム』『GODZILLA 決戦機動増殖都市』連続公開記念イラストレーター #天神英貴 氏によるスペシャルコラボビジュアルが解禁‼️#アニゴジ 歴代最大ゴジラ<ゴジラ・アース>とイェーガー軍団が今にも激突⁉️
詳しくはhttps://t.co/Bk1RpPQbmj pic.twitter.com/OkqTp97JNc

— パシフィック・リム 公式 (@PacificRim_JP) 2018年4月11日
Collaboration art by acclaimed robot anime director/designer Masami Obari
\奇跡のコラボ続々‼️/
日本屈指の天才アニメーター、#大張正己(@G1_BARI )さんがイェーガーを描く『#パシリム』愛がひしひしと伝わる、超胸アツなコラボアートが解禁‼️‼️

大張正己さんコメントはコチラhttps://t.co/lctFRVfpTs#パシリムおかえり pic.twitter.com/wdkojEiIht

— パシフィック・リム 公式 (@PacificRim_JP) 2018年4月13日
Source: "Pacific Rim: Uprising" Japanese official website, Twitter
(C)Legendary Pictures/Universal Pictures.
©Go Nagai/Dynamic Planning, MZ Production Committee