"MoviTicke Card" edition ticket with a clear file will go on sale at theaters from tomorrow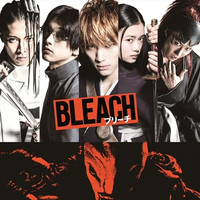 Following the full trailer and teaser poster visuals posted last week, the official website for the upcoming live-action film adaptation of Tite Kubo's Bleach action manga today revealed a visual for the A4-size clear file that comes with a "MoviTicke Card" edition advance ticket.
The price for the card ticket is 1,400 yen for adult, 900 yen for child, and it will be available at 251 theaters across Japan from tomorrow, April 27. Shinsuke Sato (GANTZ, I Am a Hero)-directed film is set to be released in Japan on July 20.
\\前売り特典ビジュアル解禁//

4/27~劇場窓口限定発売のムビチケカードは、キャラクター付き特製クリアファイルが特典に!
表は死闘を繰り広げる一護、ルキア、雨竜、白哉、恋次、裏は襲い掛かる邪悪な虚<ホロウ>の禍々しいビジュアルが!

映画『#BLEACH』7.20(金)公開#映画ブリーチ pic.twitter.com/CLEeWPU59E

— 映画『BLEACH』公式 (@bleach_moviejp) 2018年4月25日
The main five cast:
Ichigo Kurosaki: Sota Fukushi (Gentaro Kisaragi in Kamen Rider Fourze)
Rukia Kuchiki: Hana Sugisaki (Rin Asano in Blade of the Immortal)
Uryu Ishida: Ryo Yoshizawa (Ryusei Sakuta/Kamen Rider Meteor in Kamen Rider Fourze)
Renji Abarai: Taichi Saotome (HiGH&LOW THE MOVIE)
Byakuya Kuchiki: MIYAVI (Unbroken, Kong: Skull Island)
Teaser poster visuals
ティザーポスタービジュアル解禁
同様の表面ビジュアルのチラシも展開
物語の起点となる原作のストーリーさながら、死神であるルキアが一護に力を分け与え、一護が死神代行となるまでの姿を表裏で、白黒の真逆の色で表現した、制服姿の一護、死神姿のルキアが収められている#映画ブリーチ pic.twitter.com/ykVAkcw3be

— 映画『BLEACH』公式 (@bleach_moviejp) 2018年4月20日
Full trailer
Teaser trailer
Source: "Bleach" live-action film official website, Twitter
©Tite Kubo/Shueisha
©2018 "Bleach" Film Partners