"I hope I can deliver the best 'heart-pounding' song to you."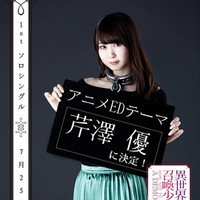 Following the three main voice cast revealed last week, the official website for the upcoming TV anime adaptation of Yukiya Murasaki's love comedy fantasy light novel series Isekai Maou to Shoukan Shoujo Dorei Majutsu/How NOT to Summon a Demon Lord announced that its yet-titled ED song is performed by Yu Serizawa, who is cast as one of the two main heroines, Shera L Greenwood. Masaaki Mizunaka plays the male protagonist Takuma Sakamoto/Diablo, alongside Azumi Waki as another heroine Rem Galleu.
23-year-old Serizawa is a member of six-member voice actress idol group i☆Ris and is best known as Mirei Minami in the PriPara anime series. While working as a member of the group, she has already released two mini albums as a solo singer, "You&YOU" (April 26, 2017) and "only you, only me!" (November 29, 2017). By her strong request, her first spolo single song is produced by creator unit HoneyWorks, who are known for their songs for the Kokuhaku Jikkou Iinkai ~Ren'ai Series~,
including the Zutto Mae Kara Suki Deshita anime film in 2016.
Serizawa says, "I have released two mini albums since my solo debut. This is my first solo single and
also a first tie-up song for an anime that I join. So I feel this song is going to be a very special and
important one for me. When I imagined how I could express the characters' love feelings and scenes
scattered in the story, I thought I should ask HoneyWorks and offered them. I hope I can deliver the
best 'heart-pounding' song to you. I am really looking forward to it!"
【#異世界魔王 EDアーティスト決定!】
アニメEDのアーティストが、シェラ役の #芹澤優 さんに決定しました!HoneyWorksさんプロデュースによる芹澤さん初のシングルは7月25日発売です!https://t.co/mfHvo9f58j pic.twitter.com/NqcrX4c5ar

— アニメ「異世界魔王と召喚少女の奴隷魔術」公式 (@isekaimaou) 2018年4月26日
【おまたせしました!新情報④】
続いては… #異世界魔王
メインキャストのシェラ・L・グリーンウッド役の芹澤優さんからのコメントはこちらから!https://t.co/Yh2DpvgZWH pic.twitter.com/1B88TEpxbI

— アニメ「異世界魔王と召喚少女の奴隷魔術」公式 (@isekaimaou) 2018年4月20日
#セリコソロ1周年 ありがとうございました!1st シングル発売決定そちらがなんと、アニメ「異世界魔王と召喚少女の奴隷魔術」のEDテーマに!そしてプロデュースにHoneyWorksさん本当にありがとうございます!ソロ2年目も一生懸命頑張ります!私はこの仕事が大好きだ!! pic.twitter.com/ABBoY4rCv5

— 芹澤優(i☆Ris) (@iRis_s_yu) 2018年4月26日
---
The TV anime adaptation is set to premiere on Tokyo MX, BS11, and AT-X in July 2018.
Main visual
【異世界魔王と召喚少女の奴隷魔術】
そして、最後は…ディアヴロです!

改めまして、
アニメ 2018年夏 放送決定!
ティザービジュアル2
アニメ版ロゴ
を公開しました。https://t.co/WR6LMF5EjH#異世界魔王 pic.twitter.com/v5c4fkOF8s

— アニメ「異世界魔王と召喚少女の奴隷魔術」公式 (@isekaimaou) 2018年3月21日
Source: TV anime "How NOT to Summon a Demon Lord" official website, Twitter
©Yukiya Murasaki, Kodansha/Ieakai Maou Production Commttee