Eight-member Japanese rock band Wagakki Band is confirmed to provide music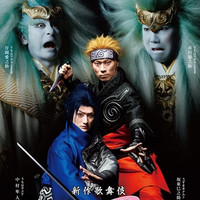 To promote the upcoming general ticket sales starting on June 23, the official website for the kabuki stage play adaptation of Masashi Kishimoto's internationally popular ninja action manga Naruto was updated with a new main visual introducing its four main cast: Bando Minosuke II (Naruto Uzumaki), Hayato Nakamura (Sasuke Uchiha), along with Ennosuke Ichikawa IV and Ainosuke Kataoka VI (Madara Uchiha). Ichikawa and Kataoka play the the legendary leader of the Uchiha clan alternately.
The first kabuki play adaptation of the manga is scheduled to be performed at Shinbashi Enbujo in Tokyo from August 4 to 27, 2018, twice in a day at 11:00 and 16:30. Ichikawa plays Madara mainly in the 11:00 shows, while Kataoka appears in the 16:30 shows. G2, who recently worked on "Musical Bio Hazard ~Voice of Gaia~" based on Capcom's survival horror game Bio Hazard/Resident Evil, serves as writer/director.
本日、記者会見が行われ、メインビジュアルが公開されました
公演日程やチケットの発売日も決定です

公演は8月4日(土)から27日(月)まで

チケット発売は6月23日(土)10:00より開始です

そして「和楽器バンド」の楽曲提供というビッグニュースも‼️
ご期待ください pic.twitter.com/CMZKfNd30g

— 新作歌舞伎『NARUTO -ナルト-』公式 (@narutokabuki) 2018年4月27日
---
It is also confirmed that eight-member Japanese rock band Wagakki Band, known for its unique blend
of traditional Japanese music and modern rock, will provide music for the kabuki adaptation. This the
first time for them to work for the Naruto franchise and a kabuki play. The band's leader/singer Yuko
Suzuhana says, "All members have loved Naruto since long before, and we are so excited to provide
music for the representative title of Japan."
【速報!】和楽器バンド、新作歌舞伎『NARUTO-ナルト-』に楽曲提供決定!
記事は↓https://t.co/f2OmPprg31#和楽器バンド #NARUTO @NARUTO_kousiki @narutokabuki @WagakkiBand pic.twitter.com/geJEq2F1aZ

— avex management (@avexmanagement) 2018年4月27日
Source: "Naruto" kabuki play official website, Twitter
© Masashi Kishimoto, Scott / Shueisha Inc.