The 26th "Crayon Shin-chan" film surpasses the one billion yen mark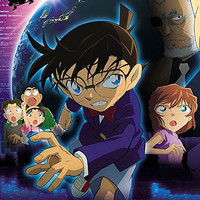 Detective Conan: Zero the Enforcer is ruling Japan's box office even in its third weekend. The 22nd Conan feature film sold an impressive 453,000 tickets in the weekend of April 28-29, which was 16,000 more than Avengers: Infinity War did in its opening weekend in Japan.
After breaking the franchise's opening weekend record, Detective Conan: Zero the Enforcer has collected 4.8 billion yen on 3.74 million admissions from its three-week domestic run. It has already become the third top-grossing film in the franchise, behind only the 21st film Crimson Love Letter (2017/6.87 billion yen) and the 20th film Pure Black Nightmare (2016/6.33 billion).
Despite its various promotional efforts, including the one collaborating with the My Hero Academia characters, Walt Disney's third Avengers flick Avengers: Infinity War was not able to make much impact in Japan. The latest superhero assemble film earned a bit disappointing 672 million yen from
the 437,000 tickets sales in its opening weekend, which was 16.4% down from that of Avengers: Age
of Ultron in 2015.
---
"Detective Conan" film box office top 10 in Japan
1. "Crimson Love Letter" (21st/2017) - 6.87 billion yen
2. "Pure Black Nightmare" (20th/2016) - 6.33 billion
3. "Zero the Enforcer" (22nd/2018) - 4.8 billion
4. "Sunflowers of Inferno" (19th/2015) - 4.48 billion
5. "Dimensional Sniper" (18th/2014) - 4.11 billion
6. "Private Eye in the Distant Sea" (17th/2013) - 3.63 billion
7. "The Raven Chaser" (13th/2009) - 3.5 billion
8. "The Phantom of Baker Street" (6th/2002) - 3.4 billion
9. "The Eleventh Striker" (16th/2012) - 3.29 billion
10. "Crossroad in the Ancient Capital" (7th/2003) - 3.2 billion
---
Weekend box office in Japan (April 28-29, 2018)
(ticket sales basis)
1 (1). "Detective Conan: Zero the Enforcer"
2 (new). "Avengers: Infinity War"
3 (2). "Ready Player One"
4 (3). "Crayon Shin-chan Burst Serving! Kung Fu Boys ~Ramen Rebellion~"
5 (4). "Coco"
6 (new). "Tonari no Kaibutsu-kun"
7 (5). "Inuyashiki"
8 (new). "Marmalade Boy"
9 (6). "The Boss Baby"
10 (8). "Jumanji: Welcome to the Jungle"
---
"Detective Conan: Zero the Enforcer" trailer
Source: Eiga.com
© 2018 Gosho Aoyama/Detective Conan Production Committee
i