Joe Hisaishi (Hayao Miyazaki, Takeshi Kitano films) provides soundtrack music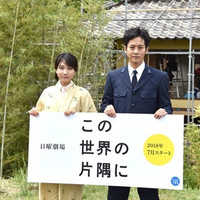 The main cast of the upcoming live-action serial TV drama based on Fumiyo Kouno's award-winning manga Kono Sekai no Katasumi ni/In This Corner of the World are announced today. This is the second TV drama adaptation of the manga following the previous one in August 2011 starring Keiko Kitagawa (Rei Hino/Sailor Mars in the live-action Sailor Moon TV drama).
21-year-old Honoka Matsumoto is newly cast as the protagonist Suzu Urano/Hojo. She started her professional career as an actress in 2015, and recently played Yui Nishida in the live-action film adaptation of Jun Mayuzuki's romance manga Koi wa Ameagari no You ni. She won this role through the audition with 3,000 participants. Some fans had hoped that 24-year-old actress Non, who voiced the character in the highly praised anime film adaptation directed by Sunao Katabuchi in 2016, would reprise the role in the drama as well, but their wishes didn't come into reality. Meanwhile, 29-year-old Touri Matsuzaka (Takeru Shiba/Shinken Red in Samurai Sentai Shinkenger,
Ken Washio in Gatchaman) plays her husband Shusaku Hojo.
In addition, internationally acclaimed composer Joe Hisaishi, best known for his works for the films by
Hayao Miyazaki and Takeshi Kitano, is confirmed to provide soundtrack music. Filming is scheduled to
be held in Tokyo, Hiroshima and Okayama from early May to early September. Nihon TV will start airing
the drama in July 2018.
ドラマ「この世界の片隅に」すず役は松本穂香、周作役は松坂桃李!脚本は岡田惠和(写真20枚 / コメントあり) #この世界の片隅に https://t.co/kHJmEqbyeN pic.twitter.com/Nb4NUKVROi

— コミックナタリー (@comic_natalie) 2018年5月4日
Main Cast:
Suzu Urano/Hojo: Honoka Matsumoto
Shusaku Hojo: Touri Matsuzaka
Sumi Urano: Sayu Kubota
Keiko Kuromura: Machiko Ono
Entaro Hojo: Tomoro Taguchi
San Hojo: Ran Ito
Sahiko Kariya (original character for the film): Sairi Ito
Shino Domoto (original character for the film): Kaho Tsuchimura
via: Comic Natalie
© Fumiyo Kouno/Futabasha