Its previous 13 episodes have been available on Crunchyroll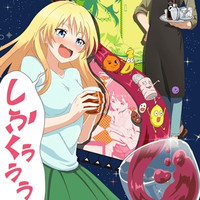 It was announced at the talk event for the TV anime adaptation of Crystal na Yosuke's Osake wa Fufu ni Natte kara/Love is Like a Cocktail slice-of-life comedy manga at Machi Asobi Vol.20 in Tokushima Prefecture on May 4 that its 14th episode is now in the works. The manga author and Arisa Nakata (Koharu Sakurai VA) joined the event also including an all-episode screening.
The liquor/cocktail drinking-themed TV anime was aired for 13 episodes from October to December 2017. Hisayoshi Hirasawa (Kiitaro's yokai picture diary, NTR: Netsuzou Trap) served as general director, alongside director Saori Tachibana (Miss Bernard said. series director). Creators in Pack (Miritari!, OZMAFIA!!) worked on anime production.
While no details, including how and when the new episode will be distributed, is revealed, Nakata said to the crowded fans at the event, "Please look forward to the 14th episode! And we really want
to make the second season?! with your support. Please continue your favors towards us!" Then the
manga author added, "Thanks to all of the staff members and fans, I have gotten more fun. In addition
to the 14th episode, I hope that the second season will be made. Thank you for your continued support.
Please enjoy Machi Asobi!"
テレビ未放映の第14話、製作決定#マチアソビ にてアニメの一挙上映会の最後に、サプライズ発表させて頂きました続報をお待ち下さいね
引き続き、漫画もアニメも宜しくお願い致します#お酒は夫婦になってから #お酒は夫婦 pic.twitter.com/sEUtvLTVEY

— 【お酒は夫婦になってから】公式 (@osakefufu) 2018年5月5日
---
The 13-episode TV anime has been available on Crunchyroll.
Key visual
Main Voice Cast:
Chisato Mizusawa: Eri Kitamura (Sayaka Miki in Puella Magi Madoka Magica)
Sora Mizusawa: Mitsuhiro Ichiki (Yamatonokami Yasusada in Touken Ranbu -Hanamaru-)
Yui Shiraishi: Ayaka Asai (Laura Sakuraba in Aikatsu Stars!)
Koharu Sakurai: Arisa Nakata (Suzu in Kiitaro's yokai picture diary)
via: Moca
© Crystal na Yosuke, Shogakukan/Osake Project