Main cats, er, I mean "cast" revealed for cat-themed, dark comedy animation set in Aichi Prefecture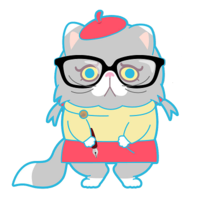 The main cast has been revealed for Neko Kikaku ("Cat Project"), an upcoming trilogy of 3DCG animated films starring a cast of furry felines that parody super hero and giant monster movies in a darkly humorous way. The main cast for Neko Kikaku includes:
Haruka Tomatsu as Takumi, a NEET whose lazy life changes when he has to rescue his father from the dreaded "Cat Project".
Akari Kito as Mutsumi, Takumi's elder sister and a popular doujinshi author. Beneath her serious and somewhat frumpy appearance, Mutsumi hides an identity that even Takumi doesn't know about...
Sakura Tange as Yugami, Takumi's younger sister and a university student with a severe case of chunibyo. Yugami is always seen in the company of her favorite stuffed animal, "Good Night Kitten", and the key around her neck seems to hold some mysterious secret.
Sakura Tange also provides the voice of The President, the leader of the nefarious black company, "Cat Project", which seems to be responsible for the recent disappearance of a huge number of cats. The President is full of ruthless ambition, but the exact details of her evil schemes are unknown.
And Yuji Mitsuya as Papa, Takumi's father. After being unemployed for a long time, Papa's luck seems to change when he gets a mysterious e-mail offering him a position at the "Cat Project". The details of his previous career are largely unknown.
Neko Kikaku is directed by Jun Awazu and features animation by SPEED INC.. Described as an "anything-goes hyper black comedy anime" and set in the city of Nyagoya, Neko Kikaku tells the story of the "Mass Cat Disappearance Incident" and one cat's quest to save his father.
Produced in cooperation with Aichi Prefecture and featuring cats speaking in Nagoya dialect, Neko Kikaku consists of three films: "Paws Defense Force", "The Day the Paws Stood Still", and "When Paws Collide". The films are scheduled to be published in the Summer season of 2018.
Sources:
Official Neko Kikaku home page
---
Paul Chapman is the host of The Greatest Movie EVER! Podcast and GME! Anime Fun Time.