Two seven-minute episodes of "Robot Girls NEO" will be streamed this summer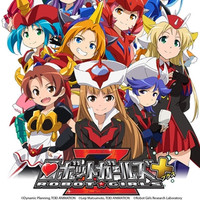 The crowdfunding for a newly-produced Robot Girls Z bonus puchi-chara episode to be included in the upcoming Robot Girls NEO Blu-ray finished on Sunday and collected 11,161,005 yen from 805 patrons in total, reaching an amazing 744 percent of its initial goal of 1,500,000 yen.
The crowdfunding was launched on March 21 and surpassed its initial goal just in 80 minutes, then reached 5,225,500 yen (348 percent) by April 10. Thanks to the huge success, the length of the puchi-chara episode is confirmed to be over 14 minutes, which is same as the total length of the two episodes of Robot Girls NEO.
---
The anime franchise featuring various anthropomorphizing robot girls from Toei's classic super robot series began as a promotional project for Toei Video DVD in 2009. Its first anime Robot Girls Z was
aired for nine episodes from January to March 2014, then its sequel Robot Girls Z Plus followed with
six episodes from May to October 2015.
Robot Girls NEO, a new installment of the series with new voice cast members will be streamed for two
episodes (seven minutes each) exclusively on ANIMAX on PlayStation this summer. Then its Blu-ray is
scheduled to be released by the end of this year.
【新情報その1】新作「ロボットガールズNEO」製作決定!
2018年夏 ANIMAX on PlayStationで独占配信https://t.co/qRVPiADGUT#ロボガ pic.twitter.com/7k0CAGnmiY

— ロボットガールズ研究所 (@robot_girls_z) 2018年3月21日
(from left)
Z-chan: Hina Kino (Sayaka Itomi in Katana Maidens ~ Toji No Miko)
Gre-chan: Ami Hagiwara (Miyabi Koigasaki in Augmented Reality Girls Trinary)
Grenda-chan: Mikako Izawa (Moeko Tokita in Wakaba Girl)
【新情報その2】
「ロボットガールズNEO」ニューチームZキャストも決定!
Zちゃん(マジンガーZ):木野日菜
グレちゃん(グレートマジンガー)萩原あみ
グレンダちゃん(グレンダイザー):井澤美香子https://t.co/qRVPiADGUT#ロボガ pic.twitter.com/g5kT38KCL5

— ロボットガールズ研究所 (@robot_girls_z) 2018年3月21日
---
Both Robot Girls Z and Robot Girls Z Plus are now available on Crunchyroll
Source: "Robot Girls 2018 Support Project" crowdfunding site
©Dynamic Planning, Toei Animation
©Leiji Matsumoto, Toei Animation
©Robot Girls Research Laboratory