Caster and Assassin announced for mobile game's arcade port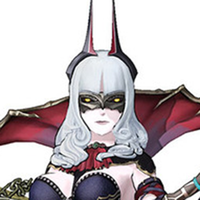 More Servants have been summoned to the upcoming Fate/Grand Order Arcade -- this time an egotistical Caster and a truly bloody Assassin.
Coming from the smartphone game to the arcade are Mozart (as a 2-star Caster) and Carmilla (as a 4-star Assassin). Both Servants return with their familiar game designs and voices -- Tomokazu Seki as Mozart, and Atsuko Tanaka as Carmilla.
This brings the game's Servant count (so far) up to 16. Previously announced Servants include Altria Pendragon (Saber), Elisabeth Báthory (Lancer), Mash Kyrielight (Shielder), EMIYA (Archer), Cú Chulainn (Caster), The Phantom of the Opera (Assassin), Medusa (Rider), Herakles (Berserker), Martha (Rider), Leonidas (Lancer), Caligula (Berserker), Siegfried (Saber), Atalante (Archer), and Vlad III (Berserker).
Fate/Grand Order Arcade will build on the smartphone game with physical cards, 3D graphics, and multiplayer modes. It is expected to hit Japanese arcades in late July.
>> Fate/Grand Order Arcade Website
>> Watch Fate/Grand Order -First Order- on Crunchyroll
Source: Anime! Anime!
-----
Kara Dennison is responsible for multiple webcomics, and is half the creative team behind the OEL light novel series Owl's Flower. She blogs at karadennison.com and tweets @RubyCosmos. Her work can currently be read in Stranger Tales of the City from Obverse Books.