US voice cast joins the Holy Grail War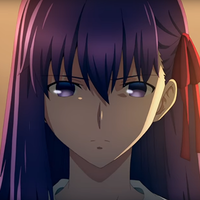 The first installment of the Fate/stay night [Heaven's Feel] film trilogy is making its way to the US -- and Aniplex is giving us a taste of the dub cast for the beginning of the high-stakes trilogy.
The dub cast from the Unlimited Blade Works TV series returns, including Bryce Papenbrook as Shirou Emiya, Cristina Vee as Sakura Matou, and Kari Wahlgren as Saber.
The story, as summarized by Aniplex:
The boy wished to protect the girl. That was his thought.
10 years after the Holy Grail War—a battle waged by Masters and Servants over the wish-granting container, the Holy Grail—another war breaks out in Fuyuki City.
Shirou Emiya—the adopted son of Kiritsugu Emiya, a participant of the previous Holy Grail War—resolves to fight, carrying out Kiritsugu's dying wish.
There's a young girl by Shirou's side —Sakura Matou. Every morning, she goes to Shirou's house to make breakfast and dinner for him, bringing kindness into the life of a boy utterly alone in the world.
But once the Holy Grail War starts, there's a change in the air in Fuyuki City. Murders abound across the city, and the atmosphere grows ominous. Shirou decides to shelter Sakura in his home.
Along with Saber, the Servant he summons, Shirou allies himself with the magus Rin Tohsaka and takes part in the Holy Grail War.
But the battle starts to go awry as secret maneuvers by unseen forces are put into play.
The Heaven's Feel trilogy is based on the final route of the original Fate/stay night visual novel, the first two routes existing as the original anime series and Unlimited Blade Works.
Fate/stay night [Heaven's Feel] I.presage flower plays June 5 and June 7 in select theaters across the US via Fathom Events.
>> Fate/stay night USA Website
>> Watch Fate/stay night on Crunchyroll
Source: Aniplex on YouTube
-----
Kara Dennison is responsible for multiple webcomics, and is half the creative team behind the OEL light novel series Owl's Flower. She blogs at karadennison.com and tweets @RubyCosmos. Her work can currently be read in Stranger Tales of the City from Obverse Books.