Mai Yamane, Gotaro Tsunashima, Mayumi Asano also join the Japanese dub team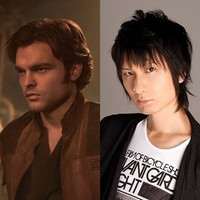 It is officially announced today that 35-year-old popular anime voice actor Maeno Tomoaki, best known as Hiro Hayami in KING OF PRISM by PrettyRhythm and Camus in Uta no Prince-sama, voices Han Solo in the Japanese dub of Solo: A Star Wars Story, the second Star Wars anthology film to be released on June 29 in Japan, one month later than its US release.
While working for various anime series, Maeno has played the Japanese dub voice of Andrew Garfield in the two The Amazing Spider-Man films (2012/2014) and in Hacksaw Ridge (2016), and that of Sam Claflin as Finnick Odair in The Hunger Games series (2013-2015). His voice as the young Han Solo and Gotaro Tsunashima's as Lando Calrissian were already revealed in a two-minute special 360° video posted on Disney Studio's official Japanese YouTube channel (http://youtu.be/LHPZ2lKJpQw), but it is region-locked to the US.
[映画ニュース] 前野智昭が"若き日のハン・ソロ"に! 日本語版の360度映像も公開 https://t.co/tBctQdg9cj pic.twitter.com/Bx9wwUfY27

— 映画.com (@eigacom) 2018年5月8日
"Solo: A Star Wars Story" Japanese dub cast:
Han Solo (Alden Ehrenreich): Tomoaki Maeno
Qi'ra: (Emilia Clarke): Mai Yamane (Uwabami in My Hero Academia)
Lando Calrissian (Donald Glover): Gotaro Tsunashima (Steve McGarrett in Hawaii Five-0)
L3-37 (Phoebe Waller-Bridge): Mayumi Asano (Midori Anzai in Devils' Line)
Tobias Beckett (Woody Harrelson): Shinya Fukumatsu (Paetta in The Legend of the Galactic Heroes: Die Neue These)
Dryden Vos (Paul Bettany): Hiroshi Tsuchida (Ganesha in Is It Wrong to Try to Pick Up Girls in a Dungeon?)
Japanese poster
Source: Eiga.com