Netflix will start streaming the new anime adaptation for 26 episodes this summer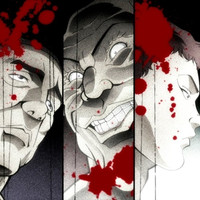 The official Japanese website for the upcoming TV anime adaptation of the "Most Evil Death Row Convicts" arc of Keisuke Itagaki's long-running action/martial arts manga series Baki today posted a 80-second new PV to introduce the voices of the five death row convicts who come to Tokyo to challenge the strongest man Baki. Their purpose is "to learn the taste of defeat."
Following the first installment Grappler Baki, the manga's second installment Baki was serialized in Akita Shoten's Weekly Shonen Champion for 276 chapters from 1999 to 2005. The "Most Evil Death Row Convicts" arc was told in the first part of the second installment.
The 26-episode new TV anime is scheduled to be streamed on Netflix first for Japanese audience in summer 2018, then for international audience in fall. The protagonist Baki Hanma is set to be voiced by 29-year-old Nobunaga Shimazaki (Haruka Nanase in Free!). The new anime's OP song "BEASTFUL"
is performed by two-member unit GRANRODEO, while its ED song "RESOLVE" is sung by 24-year-old
voice actress Azusa Tadokoro.
New PV
Dorian: Banjou Ginga (Gihren Zabi in Mobile Suit Gundam)
【最凶死刑囚を紹介ッッ!!】ドリアン(CV:銀河万丈)
アメリカの刑務所にて死刑を執行されるも生還する。その場にいた刑務官や神父を殺害して脱獄を果たす。 #バキアニメ pic.twitter.com/fZx5GfSuFM

— TVアニメ「バキ」公式アカウント (@baki_anime) 2018年5月9日
Doyle: Takehito Koyasu (Bobobo-bo Bo-bobo in Bobobo-bo Bo-bobo)
【最凶死刑囚を紹介ッッ!!】ドイル(CV:子安武人)
電気椅子に座らされようと動じることはない。外部の航空機パイロットと結託しイギリスの刑務所から脱獄する。 #バキアニメ pic.twitter.com/VavJvmiTRh

— TVアニメ「バキ」公式アカウント (@baki_anime) 2018年5月9日
Sikorsky: Kenjiro Tsuda (Seto Kaiba in Yu-Gi-Oh!)
【最凶死刑囚を紹介ッッ!!】シコルスキー(CV:津田健次郎)
ロシアの刑務所から脱獄。その圧倒的な身体能力を用い、ほんのわずかな突起を利用し垂直な壁をも登り降りできる。 #バキアニメ pic.twitter.com/6bZDHCiCvQ

— TVアニメ「バキ」公式アカウント (@baki_anime) 2018年5月9日
Speck: Chafurin (Namihei Isono in Sazae-san)
【最凶死刑囚を紹介ッッ!!】スペック(CV:茶風林)
アメリカの海底刑務所から脱獄。超人的な心肺能力を誇り5分間の無呼吸運動が可能。 #バキアニメ pic.twitter.com/jlKEsEZPni

— TVアニメ「バキ」公式アカウント (@baki_anime) 2018年5月9日
Ryuko Yanagi: Issei Futamata (Yusaku Godai in Maison Ikkoku)
【最凶死刑囚を紹介ッッ!!】柳龍光(CV:二又一成)
日本の刑務所から脱獄。小柄な体格ではあるが猛毒使いと呼ばれ、受刑者の間からも恐れられている。 #バキアニメ pic.twitter.com/q3AoHwmDSY

— TVアニメ「バキ」公式アカウント (@baki_anime) 2018年5月9日
---
Teaser visual
【ティザービジュアル解禁ッッ】薄暗い背景から浮かび上がるのは、圧倒的に逞しくて美しい肉体美。この肉体が躍動する映像への期待を煽る、熱いビジュアルですッッ! #バキアニメ pic.twitter.com/4uqJFDfi5V

— TVアニメ「バキ」公式アカウント (@baki_anime) 2018年3月14日
Teaser PV
Source: TV anime "Baki" manga official website, Twitter
© Keisuke Itagaki (Akita Shoten)/Baki Production Committee