Masters must join forces in the Heian Era to defeat a new Berserker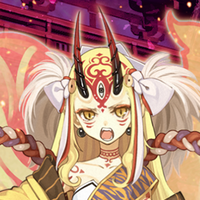 Calling all Gudaos and Gudakos -- if you haven't finished E Pluribus Unum yet, you might want to get that done before next Wednesday. May 16 marks the kickoff of Fate/Grand Order's Rashomon event on Western servers, open to Masters who have finished the game's Fifth Singularity.
Originally run in Japan in May 2016, the event includes the game's first-ever raid. Players will have a BP (Battle Point) counter allowing them to step in and inflict damage on the event's boss, 4-star Berserker Ibaraki-Douji (CV Nao Touyama, illustrated by Hidari):
There will also be a mission list and item shop, as well as a main quest line that offers Sakata Kintoki as a Support NPC.
Craft Essences available during the event, which also boost item drops, include:
Legend of Mahavairocana:
Golden Carp Figure:
The event also marks the release of 5-star Assassin Shuten-Douji (CV Aoi Yuuki, illustrated by Raita Honjou), who will be available to summon for the duration of the event:
The official Facebook page has released a teaser of Shuten-Douji's Noble Phantasm, "Multicolored Poison - Shinpen Kidoku":
If the official announcement post nets either 17,000 likes or 7,000 shares, all players will get a 3 Saint Quartz bonus.
The Demonic Capital Rashomon runs May 16-30.
>> The Demonic Capital Rashomon Event Page
>> Watch Fate/Grand Order -First Order- on Crunchyroll
Source: Fate/Grand Order USA on Facebook
-----
Kara Dennison is responsible for multiple webcomics, and is half the creative team behind the OEL light novel series Owl's Flower. She blogs at karadennison.com and tweets @RubyCosmos. Her work can currently be read in Stranger Tales of the City from Obverse Books.