15-year-old Kanon Takao (Yu Hiraoka in Ani Tore! EX) is newly cast as Linnea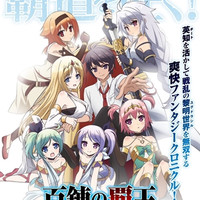 The official website for the upcoming TV anime adaptation of Seiichi Takayama's fantasy light novel series Hyakuren no Haou to Seiyaku no Valkyria/The Master of Ragnarök & Blesser of Einherjar today posted a 30-second teaser trailer to introduce its three main characters: Yuuto Suoh (CV: Koudai Sakai), Felicia (Rie Suegara), and Sigrun (Arisa Date). The EMT Squared (URAHARA, Love Tyrant)-animated series is set to premiere in Japan in July 2018.
In addition, it is confirmed that 15-year-old Kanon Takao (Yu Hiraoka in Ani Tore! EX) is newly cast
as Linnea. Yurie Funato was originally cast for the character. But she announced on May 1 that she
had already left her former agency Holy Peak as of April 30 in order to concentrate on medical treatment
for a while.
Funato broke her left lower leg bone last April and broke it again in July. Her recovery has not been
going as well as hoped, and the doctor finally suggested her to take a long break.
Takao reported the news on her Twitter, saying "I'm so happy to play such a cute and wonderful
character. I'll do my best!"
【お知らせです】
2018年7月放送開始TVアニメ「百錬の覇王と聖約の戦乙女」でリネーア役の声を担当させて頂くことになりました @hyakuren_anime
可愛くて素敵なキャラクターを演じさせて頂けて幸せです。一生懸命頑張ります!
宜しくお願いします\( 'ω')/ヘーイ#百錬覇王https://t.co/zZmFgzmemB pic.twitter.com/VvZil10Gdo

— 高尾奏音 (@Kanon_Takao) 2018年5月9日
Main visual
TVアニメ『百錬の覇王と聖約の戦乙女』2018年7月放送決定!
さらに、5月4日から6日にかけて開催される徳島 #マチアソビ では、公式Twitter(@hyakuren_anime )をフォローしていただいた方へ、特製クリアファイルプレゼントするキャンペーンを実施いたします!#百錬覇王 pic.twitter.com/6gOvs7khv9

— TVアニメ『百錬の覇王と聖約の戦乙女』公式 (@hyakuren_anime) 2018年5月1日
---
Main Voice Cast:
Yuuto Suoh: Koudai Sakai (Mitsumune in The Lost Village)
Felicia: Rie Suegara (Shizuka Tsuchimikado in Märchen Mädchen)
Sigrun: Arisa Date (Yui Yumekawa in Idol Time PriPara)
Ingrid: Maki Kawase (El Hoshino in Dragon Pilot: Hisone and Masotan)
Mitsuki Shimoya: Aya Uchida (Kotori Minami in Love Live!)
Linnea: Kanon Takao (Yu Hiraoka in Ani Tore! EX)
Albertina: Aoi Yuuki (Madoka Kaname in Puella Magi Madoka Magica)
Christina: Ayana Taketatsu (Kirino Kousaka in Ore no Imouto ga Konnani Kawaii Wake ga Nai)
TV Anime Main Staff:
Director: Kousuke Kobayashi (Idol Time PriPara)
Series Composition: Natsuko Takahashi (In Another World With My Smartphone)
Anime Character Designer: Mariko Ito (Vivid Strike!)
Chief Animation Director: Mariko Ito, Miyako Yatsu (DIVE!!)
Anime Production: EMT Squared (URAHARA, Love Tyrant)
Production: Yggdrasill Partners
---
The novel series has been published from Hobby Japan's light novel imprint HJ Bunko since July 2013
and has released 14 volumes in Japan so far. The first volume of its English edition was released by
J-Novel Club in digital on March 17, 2018. The publisher introduces the story as below:
Some urban legends are best left untested!
Yuuto Suoh gets more than he bargained for when he joins his childhood friend Mitsuki Shimoya in
testing out an urban legend. When he uses his phone to take a picture of himself with the local
shrine's divine mirror, he is whisked off into another world –one heavily steeped in the lore of the
old Norse myths. Using his knowledge gained from school and from his solar-powered smartphone,
he has the chance to bring the Wolf Clan, the same people who cared for him, to prominence, all
while earning the adoration of a group of magic-wielding warrior maidens known as the Einherjar.
Novel 1st and 14th volume covers
Source: TV anime "The Master of Ragnarök & Blesser of Einherjar" official website, Twitter
© Seiichi Takayama, Hobby Japan/Yggdrasill Partners