"The title of the book is the words that I myself have treasured."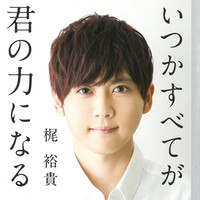 32-year-old popular anime voice actor Yuki Kaji, best known as Eren Yeager in Attack on Titan and Meliodas in The Seven Deadly Sins, releases his first autobiography "Itsuka Subete ga Kimi no Chikara ni Naru" (Everything Becomes Your Power Someday) from Kawade Shobo Shinsha in Japan today on May 10. It is the latest entry from the publisher's young adult book series "Jyuuyon-sai no Yowatarijyutsu" (The secret of success in life for 14-year-olders).
In the all-newly-written book, Kaji reveals the challenging experience he went through during his training period and his passion for his job as a voice actor. The book also includes photos from his voice recording sessions at a studio and a special interview with his mentor Masafumi Mima, who has worked as sound director in the anime industry since the mid-1980s.
Kaji says, "I was also 14 years old when I decided to become a voice actor. So after thinking it was
a kind of fate, I delightfully agreed to write this book. The title of the book is the words that I myself
have treasured."
Index:
Chapter 1: "When I was 14 years old"
Chapter 2: "About pursuing your dream"
Chapter 3: "What actors do in their job?"
Chapter 4: "The meaning of Professional"
Chapter 5: "In order to continue to be chosen"
Cover
Kaji shows his first book on Twitter, saying "I wrote this book with all my heart, believing there is something
that can be delivered by my present self."
【梶】『いつかすべてが君の力になる』

5月10日、本日発売です!

「今の自分にだからこそ伝えられることがあるのでは」と、心を込めて書かせていただきました。

読んでいただけたら幸いです。
よろしくお願いします! pic.twitter.com/0dAsD4RaMx

— 梶裕貴@staff (@KAJI_staff) 2018年5月10日
Source: Kawade Shobo Shinsha press release