You can watch the well-liked sixth season now on Crunchyroll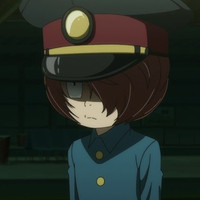 As reported, the rating for the ongoing sixth TV anime based on Shigeru Mizuki's horror/supernatural manga Gegege no Kitaro has been very high in Japan. And its latest seventh episode aired on Sunday, "Yurei Densha/Ghost Train" recorded its highest of 5.7%, according to Video Research. The previous highest record was 5.4% marked by the first episode on April 1. Its first four episodes surpassed the 5% mark for four consecutive weeks.
The one of the manga's most popular episodes was repeatedly animated in the previous TV series listed as below:
The seventh episode of the first TV series (February 14, 1968)
The sixth episode of the third TV series (November 16, 1985)
The 53rd episode of the fourth TV series (January 17, 1997)
The ninth episode of the fifth TV series (May 27, 2007)
The latest "Yurei Densha/Ghost Train" episode was directed by Kimitoshi Chioka, who served as the series
director for Hakaba Kitaro/Kitaro of the Graveyard (2008).
明日5/13(日)あさ9時より『ゲゲゲの鬼太郎』第7話の放送が近づいてきました。
アニメ『墓場鬼太郎』でシリーズディレクターを務めた地岡公俊氏によるホラー演出の数々…。
たっぷりとご堪能ください。 (TA高見)
※地域により放送日・時間が異なります #ゲゲゲの鬼太郎 https://t.co/plXIQ6hUEl pic.twitter.com/acyBXzatsk

— 「ゲゲゲの鬼太郎」(第6期)公式 (@kitaroanime50th) 2018年5月12日
---
Highlight clip of the anime's first five episodes
---
The sixth Gegege no Kitaro TV anime premiered in Japan on April 1 and has also been available for
Crunchyroll members in North America, Latin America, Australia, New Zealand, South Africa, and
Premium users in Europe.
Key visual
新ビジュアル解禁

アニメ「ゲゲゲの鬼太郎」(第6期)新ポスタービジュアル公開今回新登場となる人間の女の子・犬山まなを、鬼太郎ファミリーが取り囲む王道感溢れる1枚。満月に浮かぶ目玉おやじにも注目\(◎)/https://t.co/lkr43x42gG#ゲゲゲの鬼太郎#第6期#4月1日放送開始 pic.twitter.com/8DOiZ3qzy7

— 新番組「ゲゲゲの鬼太郎」4/1スタート (@kitaroanime50th) 2018年2月16日
via: Mantan Web
©Mizuki Production, Fuji TV, Toei Animation